ENGL 101
by
Adam Heidebrink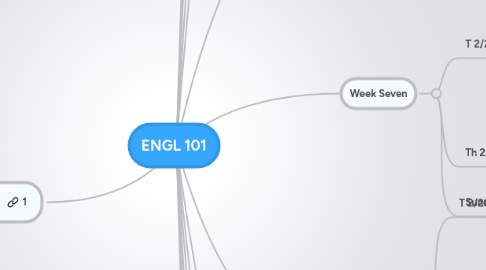 0.0
stars - reviews range from
0
to
5
ENGL 101
Week One
T 1/10 - No assignment
Th 1/12
Watch: South Park, Season 11, Ep. 12 - Minutes 13:00 - 14:30
Discuss: James Purdy, "Wikipedia is Good for You!?"
Discuss: Chapter One, from The Academic Writer
Assign: Wiki-Exploration
This link updates automatically. The Online syllabus will be adjusted to communicate any and all changes that occur throughout the course.
Week Two
T 1/17
Watch: Colbert, On Definition/contention
Discuss: TAW, Chapter Three
Due/Discuss: Wiki-Exploration
Assign: Definitions
Th 1/19
SNOW DAY!!
Week Three
T 1/24
In class reading: Aristotle
WikiExplore Wordle
Discuss: Wiki Ethos
Discuss: Wiki Pathos
Discuss: Wiki Logos
Assign: Article Research
Assign: Final Unit Project- Rhetorical Analysis, Questions to Consider, Rhetorical Analysis Wiki, An essay detailing what a Rhetorical Analysis does, A short handout defining Rhetorical Analysis, WSU: AFOSP Handout, Sample Analysis
Due/Discuss: Definitions
Th 1/26
Discuss: Peer Review Practices
Due/Discuss: Article Research
Week Four
T 1/31
Due/Discuss: Rough Draft One- Rhetorical Analysis
Small group peer review
Sign-up for conference time
Assign: Reflective Paper One
Th 2/2
**No class** Please show up for your mandatory conference instead.
Sun 2/5
Due via GoogleDocs Share: Draft Two- Rhetorical Analysis
Week Five
T 2/7
Discuss: MLA formatting, Citation Made Simple, Rhetorical Analysis sheet here
Discuss: Nicolas Carr "Is Google Making Us Stupid"
Due/Discuss: Reflective Paper One
Assign: Techno-Literacy Group Project
Th 2/9
Discuss: Excerpts from Is the Internet Changing the Way You Think, Shirky's "The Invisible College", Smolin's "Hunter-Gatherers . . .", Rheingold's "Attention, Crap Detection . . ."
Discuss: "The Future of Reading"
Watch (in class): Interview with Carr
Group-work time
Week Six
T 2/14
Due/Present: Techno-Literacy Project
Assign: Digital Archive of Literacy Narratives (DALN) Genre Study, DALN Website
Th 2/16
Discuss/Define: Literacy Narrative
Discuss Style, Vonnegut On Style, Orwell On Style, Nabokov On Reading/Writing
Due/Discuss: DALN Genre Study
Assign: Literacy Narrative Abstract
Assign: Unit Two Final Project: Literacy Narrative, Literacy Narrative, Alt. Assignment Sheet, Norton Guide to Writing Literacy Narrative
Week Seven
T 2/21
Due/Discuss: Literacy Narrative Abstract
Video: Creative Nonfiction
Peer Review Exercise
Assign: Reflection Paper two
Th 2/23
Due: Draft One Literacy Narrative
Peer Review day: Bring your essays
Sunday 2/26
Due via GoogleDocs Share: Draft Two- Literacy Narrative
Week Eight
T 2/28
Due/Discuss: Reflection Paper Two: LN
Introduce Unit Three: Research
Interpreting Data Exercise, Close Reading Info, Harvard, Close Reading info. Cambridge, Milton Excerpt
TH 3/1
Finish Discussing Data Interpretation
Assign: Unit Three Final Project: Annotated Bibliography, Sample Annotated Bib.
Assign: Unit 3.5 Final Project: Argumentative Research Paper, Sample Argumentative Research Paper (Beginning on page 120), Argumentative Paper Info.
Assign: Research Proposal, Research Proposal Guidelines, Research Proposal Example
Multimodal Research exercise, Multimodal Research Guide
Week Nine
T 3/6
Library Day (Terrell Room 105)
Th 3/8
Due/Discuss: Research Proposal
Refining Topics Exercise
(Afternoon class Observation)
Week Ten
SPRING BREAK!
Week Eleven
T 3/20
Due: Draft One Annotated Bib.
Peer Review / Workshop day
Th 3/22
Due via GoogleDocs Share: Annotated Bib., Draft Two
Discuss: Constructing an argument, Essay Writing Resource, Jerz's Argument Page, Seven Rules of Argument, Gulliver Example (Ongoing)
Example Essay w/ Commentary
Week Twelve
T 3/27
Quote Integration Basics
Quote Integration Do's and Don'ts
Quote Integration Exercise (In class)
Th 3/29
No Formal Class - Extended Office Hours for help with Argumentative Research Paper (Sign up in advance or stop by when nobody else is there)
Week Thirteen
T 4/3
Proofreading Order, Concise Sentences
Error Checking, Twelve Common Errors
Effective Conclusion Handout, Example Conclusion
Th 4/5
Due: Draft One Argumentative Research Paper
Peer Review Day
Sun 4/8
Due via GoogleDocs Share: Argumentative Research Paper, Draft Two
Week Fourteen
Assign: Final Portfolio
Assign: Portfolio Cover Letter
Discuss: Revision Strategy, Space, Content, Grammar / Mechanics, Tone / Purpose
Evaluation Guidelines
Th 4/12
Example Portfolios
Workshop: Bring any essay you want to revise
Week Fifteen
T 4/17
No Class; Instructor out of town
Th 4/19
Due/Present: Portfolio Cover Letters
Week Sixteen
T 4/24
Portfolio Workshop Day
Argumentative Logic, Onion bad logic, 3 common illogical errors, False Dichotomy, Chapter on Argumentative Logic
Th 4/26
Due: Final Portfolio Project
Class Assessment