I am visualizing representations of temporality because I want to generate patterns in collective memory and be able to interact with it
by Emily Chu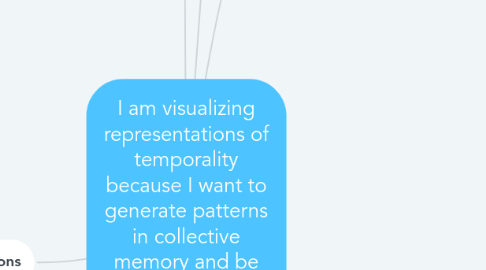 1. Time and Memory
1.1. History of events
1.1.1. Living or dead history
1.2. Narrative time
1.2.1. master narratives
1.2.2. meta-narratives
1.3. Remembering time
1.3.1. patterns
1.3.1.1. re-mining time
1.3.2. the particular
1.3.2.1. landmarks
1.3.3. collections of memories
1.4. Identities over time
1.4.1. Creation of identities
1.4.2. Fragmenting identities
1.4.3. Destruction of identities
1.4.4. Maintenance of identity
1.5. Representing the quantified self over time
1.5.1. Data self over time
1.5.1.1. times when behaviors occur
1.5.1.2. amplification of behaviors
1.5.1.3. policing
1.5.1.4. curation
1.5.1.5. collections
2. Perception of Time
2.1. Experience of Time
2.1.1. Representation of duration
2.1.1.1. real-time
2.1.1.2. recorded time
2.1.1.3. spatialization of time
2.1.1.3.1. Digital explorations i.e. "if an hour was a pixel..."
2.1.2. Interaction with time
2.1.2.1. dialogue with time
2.1.2.1.1. annotated time
2.1.2.2. Making time physical; "playing with time"
2.1.2.2.1. materializing time as data
2.1.2.2.2. artifacts of time
2.1.2.2.3. games/simulations
2.1.2.2.4. direction of time
2.2. Passing of time
2.2.1. losing/devouring time
2.2.1.1. fading of time; irretrievability
2.2.1.1.1. temporary nature of time
2.3. Division of time
2.3.1. Units of time
2.3.1.1. creation of alternative units of time?
2.4. Use of time
2.4.1. Labor and productivity
2.4.1.1. reactions against time
2.4.1.1.1. reimagining the sense of time
2.4.2. Synchronization
2.4.2.1. collaboration
2.5. Value of time
2.6. Repetition over time
2.6.1. connection or break with the future
2.7. Cyclical time
2.8. Relations to time
2.8.1. relation between humans and their natural environment
2.8.2. Personal units of time?
3. Organization of Time
3.1. Representations of time
3.1.1. clocks
3.1.2. calendars
3.1.3. timelines
3.1.4. time-series
3.1.5. photographic narrative
3.1.6. video narrative
3.1.7. literature narrative
3.2. Relative time
3.2.1. Dependent on the reference body/subject's frame of reference
3.2.1.1. time experiences of different observers varies
3.2.2. Dependent on time, space, circumstance
3.2.3. Time inseparable from lived experience
3.2.3.1. Process of being
3.2.4. space-time continuum
3.2.5. events happen simultaneously
3.2.6. "pure" time
3.3. Newtonian Time
3.3.1. Sequential time
3.3.1.1. Absolute time
3.3.1.1.1. Calendar time
3.3.1.1.2. Chronometrical time
3.3.1.1.3. Universal time
3.3.1.1.4. Time abstracted from events and nature
3.3.2. "measurable" time
4. Questions
4.1. How can alternative views of temporality for datasets with images and rich metadata impact the discovery of relationships among objects and events across time?
4.2. How can alternate views of temporality impact understanding of rhythm inherent to natural ecologies to reduce environmental carelessness?
4.3. How does varying the temporal design of data narratives impact individual memory, collective memory, shared memory?
4.4. What other units of time might be imagined to better understand progression of events or behaviors over time?
5. Audience
5.1. Design researchers
5.2. Journalists
5.3. Data artists
5.4. Data scientists
5.5. General practitioners with data
6. Data
6.1. Cultural data
6.2. Image data
6.3. Ecological data
6.4. Narrative data
6.5. Time-series data
6.6. Self-tracking data
6.7. Real-time news