Nolan Remedios: Social Capitalism: The Changing Expectations of Business
by
Dan Taylor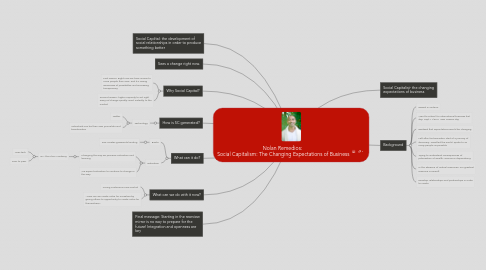 5.0
stars -
2
reviews range from
0
to
5
Social Capitalist- the changing expectations of business
Background
Raised in Ontario
Went to school for international business first day: Sept 11/2011 Twin Towers day.
Realized that expectations would be changing
Left after first semester, start of a journey of discovery. Travelled the world, spoke to as many people as possible
Trying to understand consequences of polarization of wealth, economic dependency.
In the absence of natural resources, our greatest resource is ourself.
Develop relationships and partnerships in order to create
Social Capiltal: the development of social relationships in order to produce something better
Sees a change right now.
Why Social Capital?
First reason: Right now we have access to more people than ever, and it's raising awareness of possibilites and increasing transparency
Second reason: higher capacity to act right away ad change quickly, react instantly to the market
How is SC generated?
Technology
What can it do?
Banks
Education
What can we do with it now?
Giving customers more control
"How can we create value for ourselves by giving others to opportunity to create value for themselves?"
Final message: Starting in the rearview mirror is no way to prepare for the future! Integration and openness are key