Ch. 11 Proteins (group 6)
by Elizabeth Guzman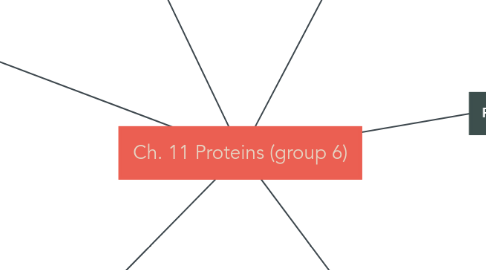 1. 2
2. Summary
2.1. The Nutritional Contributions of Proteins
2.2. protein is one of the energy proteins for us. it is needed fro growth and repair of body tissue.
2.2.1. - Support growth and repair
2.2.2. - Fight Disiease
2.2.3. - Maintain fluid and mineral balance
2.2.4. Maintain pH Balance
2.2.5. Control Bodily Functions
2.2.6. Provide energy
2.2.7. Future protein needs
2.3. Health Concerns
2.3.1. - the immune system will sometimes mistaken a protein in food for a harmful substance, this is known as food allergy.
2.3.2. Symptoms include but not limited to: watery eyes, hives, itching, coughing, wheezing, swollen joints, etc.
3. Elizabeth Guzman, Adrian Olivera, Cameron Chavarria , Miguel Castan
4. General Info
4.1. 1. What are the are 4 food allergy symptoms that you may experience if your immune system has a negative reaction to a protein?
4.2. 2. What do antibodies do?
5. Key Visuals
5.1. Examples of food Protein sources
6. Key Vocabulary
6.1. Antibodies: Proteins designed to attack foreign substances that enter the body.
6.2. Triticale: is a cross of wheat and rye that has more protein than any variety of wheat
6.3. Amaranth: a traditional Aztec grain with high quality protein
6.4. ketones: an organic compound carbonyl group =c=o bounded to two hydrocarbon groups
7. Page numbers
7.1. 323-327