Juan's small brain
by Juan Guardianelli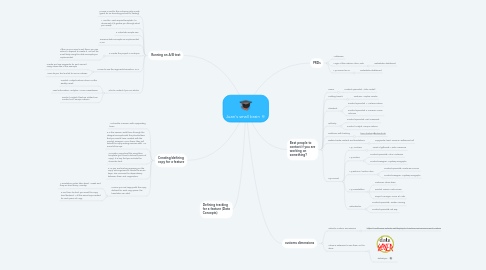 1. PRDs
1.1. Addresses
1.2. Login at the Fashion Store Web
1.2.1. Datastudio dashboard
1.3. MyAccount 2019
1.3.1. Datastudio dashboard
2. Creating/defining copy for a feature
2.1. 1.Schedule a session with copywriting team
2.2. 2.In the session, walk them through the designs/concepts with the placeholders that you would have created with the Product Designer. From there, they will kickoff the copy writing exercise with 1 or more follow ups.
2.3. 3.Create a copy brief file using their template (you have to list each piece of copy). It is key that you include the character limit.
2.4. 4.As you are finishing agreeing on the copy, ask engineers to create the ZaTra keys! This removes the dependency between them and copywriters.
2.5. 5.Once you are happy with the copy defined for each copy piece, the translation can start
2.5.1. 1.Translation cycles take about 1 week and they are brief every Monday.
2.5.2. 2.For them to start, you need the copy brief finalised + all the ZaTra keys created for each piece of copy
3. Running an A/B test
3.1. 0.Have a read to the Octopus Help Guide (great for on-boarding yourself to testing)
3.2. 1.Use the "Test request template" to document it (it guides you through what you need!)
3.3. 2.Calculate sample size
3.4. 3.Ensure data concepts are implemented in GA
3.5. 4.Create the project in Octopus
3.5.1. If the KPI you need is not there, you can submit a request to create it. You will be most likely using the data concepts you implemented
3.6. 5.How to see the segments/variants in GA?
3.6.1. Create and use segments for each variant using cd098 like in the example
3.6.2. How do you find a what to use on cd098?
3.7. Who to contact if you are stuck?
3.7.1. Product Analyst Fashion Store: Pruthvi Reddy Panati
3.7.2. Lead Information Analytics: Arman Nassirtoussi
3.7.3. Product Analyst if test are related con Contact Call: Sampo Satama
4. Best people to contact if you are working on something?
4.1. Home
4.1.1. Product Specialist: Corie Nicole Wiren
4.2. Catalog/Search
4.2.1. Producer: Sophie Heinke
4.3. Checkout
4.3.1. Producer: Ana Ines Satostegui
4.3.2. Product Specialist 1: Shilpa Suri
4.3.3. Product Specialist 2: Melanie Tobias
4.4. SelfHelp
4.4.1. Product Specialist: Neil Cranswick
4.4.2. Product Analyst: Sampo Satama
4.5. Problems with tracking
4.5.1. Lead of the Tracking Product: [email protected]
4.6. Define/create content and translations
4.6.1. Copywriter lead: Jemima Leathwood-Hill
4.7. MyAccount
4.7.1. My Vouchers
4.7.1.1. Head of giftcards: Martin Lawrence
4.7.2. My Orders
4.7.2.1. Product Specialist: Shilpa Suri
4.7.2.2. Product Designer: Joydeep Sengupta
4.7.3. My Returns / Return Item
4.7.3.1. Product Specialist: Neelmani Parmar
4.7.3.2. Product Designer: Joydeep Sengupta
4.7.4. My Newsletters
4.7.4.1. Inbox team
4.7.5. ZalandoPlus / Ztar
4.7.5.1. Product Specialist: Torsten Hennig
4.7.6. My Giftcard
5. Defining tracking for a feature (Data Concepts)
6. customs dimensions
6.1. Zalando Custom Dimensions
6.1.1. https://confluence.zalando.net/display/PA/Custom+Dimensions+and+Metrics
6.2. Chrome extension to see them on the store:
6.2.1. dataslayer