Grounded Theory Research
by
Trina Hurdman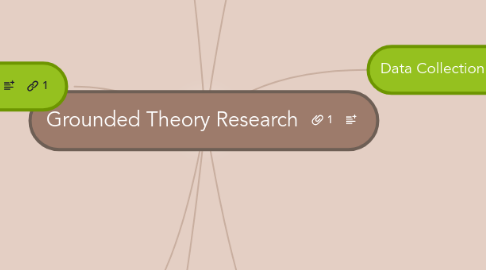 0.0
stars -
0
reviews range from
0
to
5
Grounded Theory Research
Presenting... Grounded Theory Research by Terry, Trina and Christine. Please take a look around, there are notes and audio files to explore. Make sure the Properties box is open so you can access all the information.
Please watch Youtube video by Dr. Graham Gibbs, 4:45-end. Access it on the links tab.
Preconceptions
Researchers need to set aside any preconceptions they may already have in order to view the data as objectively.
Category saturation
Judging when category saturation is complete is subjective.
Internal differences
Glasser, who co-founded GT with Strauss in 1967, later criticized Strauss' approach as being too prescribed and structured. Charmaz criticized Strauss and Corbin's approach for being too structured and said that the use of jargon, diagrams and conceptual maps is an attempt by the researchers to gain power through their use.
Theoretical Underpinnings
Field of study
Is unique among qualitative approaches in that it was developed within a single discipline, Sociology. It is now also popular in other disciplines such as nursing, education, and psychology.
Positivist
Classic grounded theory assumes an objective observer who uses a very rigorous, systemic set of procedures to collect and analyze data in order to develop a theory to explain the data.
Social Constructivist
Constructivist grounded theory recognizes multiple realities and can have a more abstract approach to data collection and analysis. The resulting 'theory' is recognized to be only suggestive as it is an interpretation of how the subjects construct their realities.
Internal divisions
Strauss and Glaser originally worked together to develop a framework for GT. Shortly after, however, they went their separate ways; Glaser felt Strauss was too rigid in his approach. Much later Charmaz adopted GT but with certain changes, creating "constructivist grounded theory".
Seminal Researchers
Glaser is very clear that literature reviews should not be done prior to developing the theory in order to maintain an open mind. In the linked video he goes so far as to say that it is "a waste of time" as it often does not relate well to the final theory.
Research Purposes and Questions
See audio file.
Use
Used when no theory exists to explain the process or when the theory available is incomplete or does not fit the context.
Purposes
To generate or discover a theory based on the views of a large number of participants.
Questions
What was the process? What was central to the process? What influences or causes are involved? What strategies were used? What were the outcomes?
Data Collection and Analysis
Systematic procedure
Strauss and Corbin's Model
Constructivist Grounded Theory
The Charmaz model.
Reporting and Evaluation
End result
End result is a theory, often summarized into a diagram, either a web or using concentric circles (eg. Creswell, p.293) which is then explained in detail.
Reporting forms
Reporting can be in the form of papers, theses, monographs and presentations.
Examples
The examples provided all presented their theories in chart form. This was followed by a detailed description of the different parts of the chart.
Please watch Youtube clip by Dr. Graham Gibbs from the University of Huddersfield in the UK.  Watch until 4:45
Anselm Strauss
Barney Glaser
Kathy Charmaz
Antoinette McCallin
References
Butterfield, 2009
Butterfield, J. (2009). Using grounded theory and action research to raise attainment in, and enjoyment of, reading. Educational psychology in practice, 25(4), 315-326.
Charmaz, 1990
Charmaz, K. (1990). 'Discovering' chronic illness: Using grounded theory. Social science & medicine, 30(11), 1161-1172.
Corbin & Strauss, 2008
Corbin, J. M., & Strauss, A. L. (2008). Basics of qualitative research: techniques and procedures for developing grounded theory (3rd ed.). Los Angeles, Calif.: Sage Publications.
Creswell, 2007
Creswell, J. W. (2007). Qualitative inquiry & research design: choosing among five approaches (2nd ed.). Thousand Oaks: Sage Publications.
Givon & Court, 2010
Givon, S. & Court, D. (2010). Coping strategies of high school students with learning disabilities: a longitudinal qualitative study and grounded theory. International journal of qualitative studies in education, 23(3), 283-303.
Glaser & Holton, 2004
Glaser, B., & Holton, J. (2004). Remodeling Grounded Theory. Forum: Qualitative Social Research, 5(2), 1-17.
Glaser & Strauss, 1967
Glaser, B.G. & Strauss, A.L. (1967). The discovery of grounded theory: strategies for qualitative research. Chicago: Transaction Publishers.
McCallin, 2011
McCallin, A.M. (2011). Moderated guiding: a grounded theory of nursing practice in end-of-life care. Journal of clinical nursing, 20(15-16), 2325-2333.
Smart & Igo, 2010
Smart, J.B. & Igo, B.L. (2010). A grounded theory of behavior management strategy selection, implementation, and perceived effectiveness reported by first-year elementary teachers. The elementary school journal, 110(4), 567-584.