Government Agencies that Support Regulate and Monitor Businesses
by katleen camille logdat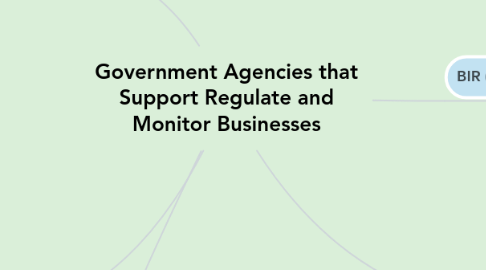 1. SSS/PHILHEALTH/PAG-IBIG
1.1. This is the government agency where employers and employees are required to be registered. Funded through mandatory payroll contribution, this is where citizens who are retired, currently unemployed or unemployable due to disability are assisted.
1.2. This is the government agency which requires all employees to be registered. The National Health Insurance Program under this aimed at providing health insurance coverage and ensure affordable health care services for all the citizens of the Philippines.
2. PEZA (Philippine Economic Zone Authority) /BOI (Bureau of Immigration)
2.1. focused on businesses that are export-oriented, specifically in designated Special Economic Zones.
2.2. responsible for investment promotion in the country and offers a wide range of incentive schemes for both Filipino and foreign investors.
3. SEC (Securities and Exchange Commission)
3.1. responsible for regulating the securities industry.
3.2. It supervises all registered business entities in the country (with the power to suspend and revoke registrations), investigate violations of securities laws and impose sanctions, and make policies with regard to the market in securities.
3.3. It also supervises stock and bond brokers as well as the stock exchanges.
4. DTI (Department of Trade and Industry)
4.1. Before you can conduct business in the country, you need to register a name associated to your business. This is called business name registration (BNR). This is required if a person will use a name other than his true name.
4.2. This is the government agency where single proprietorship enterprises register and secure its certificate of registration.
5. BIR (Bureau of Internal Revenue)
5.1. Register your business establishment and all its branch offices, if any. You do this at the BIR Revenue District Office (RDO) in the place where your business is located. Once you obtain your Certificate of Registration, you must display it in a conspicuous place within your business establishment.
5.2. Register your books of accounts. You accomplish this at the same RDO.