E-PROCUREMENT
by Elizabeth morales toro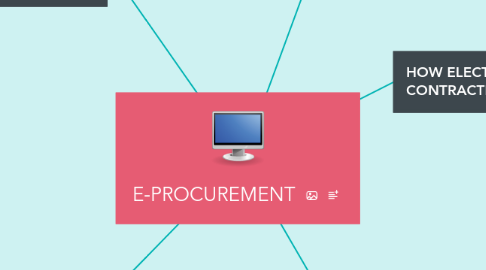 1. HOW ELECTRONIC CONTRACTING WORKS
1.1. RFQS: When the purchase requirements are not standard, it reduces the time of quotations.
1.2. Reduce the time for online purchase requests.
1.3. Provides a broad database of suppliers and quality data
1.4. Send the entire electronically encrypted package to the sellers in hours
2. HOW ELECTRONIC CONTRACTING WORKS
2.1. Strategic Procurement of purchases: Improves Processes, and increases productivity.
2.2. Companies adopt a new strategy for the way they buy services and products.
2.3. It is a systematic process of analysis of expenses, internal and external influences.
2.4. Determine what types of relationship there are with the providers and what are necessary to achieve the goals.
3. HOW ELECTRONIC CONTRACTING WORKS
3.1. Online auctions: Buyers or Intermediaries Publish their products on the Web.
3.2. Lower products which makes sellers join and increase buyers' potential
3.3. They reduce the prices of the Articles in less time.
3.4. For the Operations Manager, online auctions are an opportunity to improve the offer.
4. INTERNET
4.1. Orders and funds transfers
4.2. Electronic data exchange Epi
4.3. Format for communications (purchase order, date, quantity, number)
4.4. Shipping Notice (ASN) Notification to the buyer that the supplier is ready to ship the order.
4.5. Shopping Speeds: Reduce costs and integrate the supply chain improving competitiveness. The advantage, Reduces a lot of paperwork in Electronics.
5. HOW ELECTRONIC CONTRACTING WORKS
5.1. Catalogs Online: Updated information on products, Electronic orders are less expensive.
5.2. Electronic Form, Cost Comparison and its efficiency.
5.3. Traditional Catalogs, Video Clips and Voice., Provides low cost purchases, buyers and sellers can meet with catalogs from many suppliers.