Characteristics of Assessment for Learning
by
Marc Hermon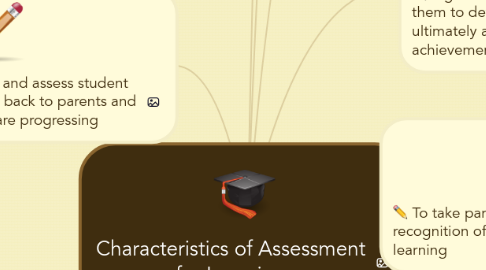 0.0
stars -
0
reviews range from
0
to
5
Characteristics of Assessment for Learning
It informs and promotes the achievement of all students by encouraging them to take responsibility for their own learning
Teaching for Learner Differences requires teachers to understand essential concepts and skills to identify the contributing factors affecting the desired outcome, and to utilize a variety of methods to teach and reinforce the desired concepts and skills. It includes providing access to the general educationcurriculum for all students. Teaching for Learner Differences can best be accomplished by engaging in a process which has teachers using student and instructional assessment data to make sound instructional decisions to meet the needs of individual students.
In Student-centered Classrooms, students construct their own knowledge based on experiential, holistic, authentic, and challenging experiences. Teachers take the skills, knowledge, and concepts that the curriculum requires and connect them to students' experiences, interests, and environment. They provide opportunities for students to communicate their understandings, reasoning, solutions, and connections. Teachers encourage students to reflect on their own thinking and learning. Curriculum and assessments are centered on meaningful performances in real-world contexts. Classroom learning experiences are intentionally designed for collaboration.
RESOURCES
Files, SCC-Brief, SCC-Literature, Innovation Config. Map, UCILT Note Template, ICC Start Sheet, CEI Sub-Committee, Sample Desired State, PLC Cap Mat, IQC Seen in Classrooms
Links, AEA Iowa Core, Moodle Constructionism, SCC Booklet, Darling-Hammond
Metacognition
Metacognition is thinking about your thinking.  In order for students to be metacognitive, they must understand the importance of thinking about their thinking and know how to do it.  In a student-centered classroom, teachers facilitate opportunities for students to be metacognitive.  Teachers in learner-centered schools believe learning should be a self-regulated, ongoing process of making sense of the world through concrete experience, collaborative discourse, and reflection (Twomey Fosnot, 2005).  Teachers can assist students to acquire a set of strategies, define goals, and monitor their progress (Darling-Hammond, et al. 2008).  Providing opportunities to students to reflect on what and how they learn, creates an environment in which students take responsibility for their learning and become more like partners with their teachers in engaging in meaningful learning experiences.
RESOURCES, Darling-Hammond, ICC Metacognition Rubric, Metacognition Power Point, Metacognition Research, Metacognitive Teachers, Self-Monitoring Students, Self-Regulated Students, Thinking Critically, Stephen Heppell
Reflection, Metacogntion Madness (activity), M&M student work
Self-Regulation, Capacity Matrix Tutorial, Capacity Matrix Resources
Construction of Learning
RESOURCES
Tricks & Treats
Spider Diagrams, High School, Middle School, Jensen & Rolling Green, Karen Acres & Valerius
SCI for Content Areas, Art, Literacy, Math, Media Center, Middle School, Music, Science
Educational-Learner Partnership
RESOURCES
Collaborative Learning
Resource Links
Building Dynamic Groups
What is Collaborative Learning?
Collaborative Learning Booklet
44 Benefits of Collaborative Learning
Social Skills and Community Building
Authentic Assessment
RESOURCE LINKS
5 Fives
10 Tips
School of the Future
Teaching for Understanding is leading students (to engage in a variety of thought-provoking activities such as explaining, finding evidence in examples, generalizing, connecting, applying, making analogies, and representing the topic in new ways. Teachers assist students in making connections between prior and new knowledge to develop deep conceptual and procedural knowledge. Teachers who teach for understanding 1) make learning a long-term, thinking- centered process, 2) provide for rich ongoing assessment, 3) support learning with powerful representations, 4) pay heed to developmental factors, 5) induct students into the discipline, and 6) teach for transfer.
It gives feedback on student progress and enables them to develop self assessment skills so they are ultimately able to reflect on and recognise own achievements
A rigorous curriculum is one that is complex, provocative, and personally or emotionally challenging. A relevant curriculum requires students to use knowledge to solve complex, real-world problems, and to create works to use in real world situations. Rigor and relevance is represented by challenging content that is significant to a topic, includes authentic work, and the application of knowledge and skills to complex problems. It also entails the use of prior knowledge, the development of in-depth understanding, and the ability to develop and express ideas and findings through elaborated communication. The content is not just interesting to students, but involves particular intellectual challenges. When students successfully meet these challenges, their new learning will have meaning and value in contexts outside of the classroom.
Assessment for Learning
Formative assessment is a process used by teachers and students as part of instruction that provides feedback to adjust ongoing teaching and learning to improve students' achievement of core content. As assessment FOR learning, formative assessment practices provide students with clear learning targets, examples and models of strong and weak work, regular descriptive feedback, and the ability to self-assess, track learning, and set goals.
Foundations
RESEARCH ARTICLES
Inside the Black Box
Advancing Formative Assessment
What a difference a WORD makes
The Benefits of Formative Assessment
Assessment Manifesto
Learning Intentions
Collaborative Classroom Climate
Eliciting Evidence/Instructional Modifications
Self and Peer Assessment
Descriptive Feedback
For the teacher to monitor and assess student achievement and to report back to parents and other staff as to how they are progressing
For teachers to plan lessons and tasks that should set out clear objectives so that progress can be measured
To make the lesson objectives clear to the staff and students as to what is expected of them and the learning outcome