Assessments
by Taryn Estes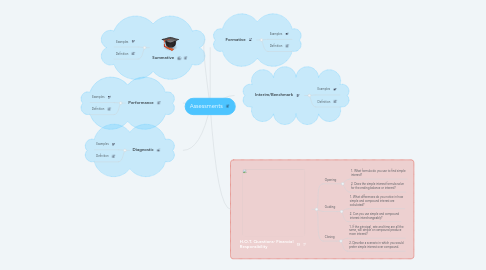 1. Formative
1.1. Examples
1.2. Definition
2. Interim/Benchmark
2.1. Examples
2.2. Definition
3. Summative
3.1. Examples
3.2. Definition
4. Performance
4.1. Examples
4.2. Definition
5. Diagnostic
5.1. Examples
5.2. Definition
6. H.O.T. Questions- Financial Responsibility
6.1. Opening
6.1.1. 1. What formula do you use to find simple interest?
6.1.2. 2. Does the simple interest formula solve for the ending balance or interest?
6.2. Guiding
6.2.1. 1. What differences do you notice in how simple and compound interest are calculated?
6.2.2. 2. Can you use simple and compound interest interchangeably?
6.3. Closing
6.3.1. 1. If the principal, rate and time are all the same, will simple or compound produce more interest?
6.3.2. 2. Describe a scenario in which you would prefer simple interest over compound.