Remake going to work experience for your grandparents based on a web service
by Ran Jing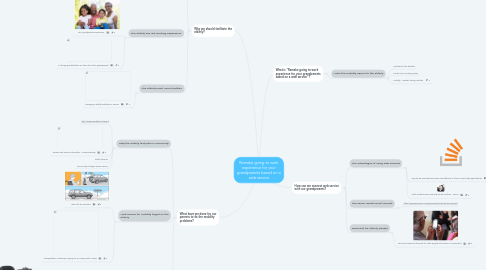 1. What is "Remake going to work experience for your grandparents based on a web service"?
1.1. Make the mobility easier for the elderly
1.1.1. Facilities for the disables
1.1.2. Private cars: avoiding messy
1.1.3. Mobility - Assisted Living Facilities
2. How can we connect web service with our grandparents?
2.1. The advantages of using web services
2.1.1. Why do we need web-services? How different is it from normal web-applications?
2.1.2. What is web services and why do we use this? - Quora
2.2. The senior needs social connect
2.2.1. https://www.seniorliving.org/retirement/embrace-the-internet/
2.3. Discounts for elderly people
2.3.1. Phone and internet discounts for older people and seniors | Comparitech
3. Why we should facilitate the elderly?
3.1. Population Ageing
3.1.1. WPA 2015 Report: In 2015, one in eight people worldwide was aged 60 years or over. By 2030, older persons are projected to account for one in six people globally. By the middle of the twenty-first century, one in every five people will be aged 60 years or over.http://www.un.org/en/development/desa/population/publications/pdf/ageing/WPA2015_Report.pdf
3.1.2. The impact of an ageing population on the economy - Economics Help
3.2. The elderly has rich working experience.
3.2.1. The 'grandparents experience'
3.2.2. 10 things grandchildren can learn from their grandparents
3.3. The elderly meet more troubles.
3.3.1. Managing Mobility Problems in Seniors
4. What have we done for our parents to fix the mobility problems?
4.1. Help the elderly find jobs in community
4.1.1. http://www.goodwill.org/scsep/
4.1.2. Careers and Career Information - CareerOneStop
4.1.3. Public libraries
4.1.4. Community college's career service
4.2. Web service for mobility target on the elderly
4.2.1. Uber, but for Grandma
4.2.2. Transportation Made Easy, Saying No To Messy Public Transit
4.3. Mobility Devices such as Scooters & Wheelchairs Help Seniors
4.3.1. Pride Travel Pro 3-Wheel - Pride 3-Wheel Travel Scooters
4.3.1.1. https://www.spinlife.com/images/product/49598.png