CURRICULUM MACROGENRES
by Alejandra Garcia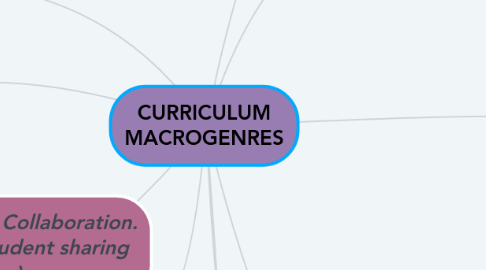 1. May be used to announce the opening of another, in that overt reference is made to skills developed and/or issues examined which will be taken up again in another curriculum activity. Even where no such overt connection is required.
2. Involves pursuing the work necessary towards achievement of the tasks. This might involve reading of selected materials, researching in libraries, viewing films, interviewing people, going on field trips, reading a class novel, conducting experiments, constructing models and/or charts, or any of a number of other activities, depending upon what is being taught and learned.
3. Macrogenres have certain features in common with curriculum genres, they have a 'beginning, middle, end' pattern.
4. A curriculum macrogenre will typically have an initiating genre whose function is to establish overall goals for the teaching and learning.
4.1. overall goals:
4.1.1. -Predisposing the students to address certain issues. -Defining possible strategies for work. -And a generally charting the course the programme of work is to pursue.
5. The opening genre
5.1. Normally has a series of phases or stages within it.
5.1.1. All important to the definition of tasks and the establishment of a framework for working.
5.1.2. Indicate those criteria for evaluation that apply in judging students' performance.
5.1.3. In this initiating genre, as a necessary aspect of establishing the evaluation principles that will apply.
6. The 'middle' genres
6.1. Show the greatest variation from one macrogenre to another.
7. Final genre
7.1. will provide some clear sense of a closure, normally requiring of the students completion of some task
8. The Curriculum Initiation. (Teacher Direcction)
8.1. Establishes goals, crucially predisposes the students to work and think in particular ways, defines the ultimate task or tasks, though normally in general terms, and it indicates the evaluation principles that will apply.
9. Curriculum Collaboration. (Teacher/student sharing of Direcction)
10. Curriculum Closure. (Student independent activity)
11. EQUIPO: GUADALUPE TEC EFRAIN SALAS