TOK Essay (Mahima) "The quality of knowledge is best measured by how many people accept it." Discuss this claim with reference to two areas of knowledge."
by Mahima JAIN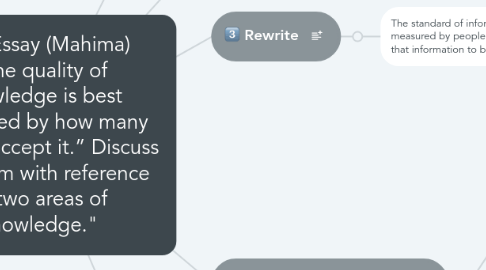 1. Keywords
1.1. define
1.1.1. Quality
1.1.1.1. the standard of something as measured against other things of a similar kind; the degree of excellence of something.
1.1.2. Knowledge
1.1.2.1. facts, information, and skills acquired through experience or education; the theoretical or practical understanding of a subject.
1.1.3. Accept
1.1.3.1. believe or come to recognise (a proposition) as valid or correct.
2. Key Phrases
2.1. rephrase
2.1.1. Quality of Knowledge
2.1.1.1. How good/valuable is the knowledge?
2.1.1.1.1. How reliable is the knowledge?
2.1.2. Best measured
2.1.2.1. Are there any experiments that back up the knowledge/claim?
2.1.2.1.1. How was it measured?
3. Rewrite
3.1. The standard of information is best measured by people who believe that information to be valid/correct.
4. Rewrite
4.1. The calibre of evidence that supports a contentious claim is best measured by the number of people who believe in it as opposed to the experts who research the information using the scientific method.
5. Connections to Classes
5.1. Biology
5.1.1. Natural Science
5.1.2. Many people believe that organic food is healthier than GMOs even though there is scientific evidence proving this wrong.
5.1.2.1. Believe - accepts something is true without evidence
5.1.2.1.1. faith - person has faith that organic food is better than GMOs
5.1.2.1.2. Methodology - It is the way they know
5.1.2.2. Connection
5.1.2.2.1. WOK
5.1.2.2.2. Framework Area
5.2. Subject 2
5.2.1. AOK
5.2.2. RLE/PK Connections
5.2.2.1. Connection
5.2.2.1.1. WOK
5.2.2.1.2. Framework Area
5.2.2.2. Connection
5.2.2.2.1. WOK
5.2.2.2.2. Framework Area
5.3. Subject 3
5.3.1. AOK
5.3.2. RLE/PK Connections
5.3.2.1. Connection
5.3.2.1.1. WOK
5.3.2.1.2. Framework Area
5.3.2.2. Connection
5.3.2.2.1. WOK
5.3.2.2.2. Framework Area