Max TOK Essay "The quality of knowledge is best measured by how many people accept it"
by Maximilian CLAUSIUS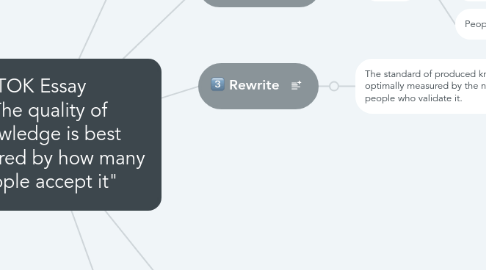 1. Keywords
1.1. define
1.1.1. Acceptance
1.1.1.1. The process or fact of being received as adequate, valid, or suitable.
1.1.2. Knowledge
1.1.2.1. Facts, information, and skills acquired through experience or education; the theoretical or practical understanding of a subject.
1.1.3. Measured
1.1.3.1. Assess the importance, effect, or value of (something).
1.1.4. Quality
1.1.4.1. The standard of something as measured against other things of a similar kind; the degree of excellence of something.
2. Key Phrases
2.1. rephrase
2.1.1. Quality of knowledge
2.1.1.1. The standard of knowledge
2.1.2. Best measured
2.1.2.1. Optimally measured
2.1.3. People accept it
2.1.3.1. People who validate it.
3. Rewrite
3.1. The standard of produced knowledge is optimally measured by the number of people who validate it.
4. Rewrite
5. Connections to Classes
5.1. Chemistry
5.1.1. Natural Science
5.1.2. The invention of the periodic table
5.1.2.1. The periodic table was invented by Mendeleev, and is now accepted by almost everyone (experts and people). Hence, the valuable use of it in day-to-day lives. The periodic table is able to predict the properties of elements that are yet to be discovered. This theory is applied by experts and in Chemistry education.
5.1.2.1.1. Reason, Intuition
5.1.2.1.2. Methodology
5.1.2.2. Connection
5.1.2.2.1. WOK
5.1.2.2.2. Framework Area
5.2. Subject 2
5.2.1. AOK
5.2.2. RLE/PK Connections
5.2.2.1. Connection
5.2.2.1.1. WOK
5.2.2.1.2. Framework Area
5.2.2.2. Connection
5.2.2.2.1. WOK
5.2.2.2.2. Framework Area
5.3. Subject 3
5.3.1. AOK
5.3.2. RLE/PK Connections
5.3.2.1. Connection
5.3.2.1.1. WOK
5.3.2.1.2. Framework Area
5.3.2.2. Connection
5.3.2.2.1. WOK
5.3.2.2.2. Framework Area