Misato prarthana TOK essay 1 "One way to assure the health of a discipline is to nurture contrasting perspectives.
by Misato NIWA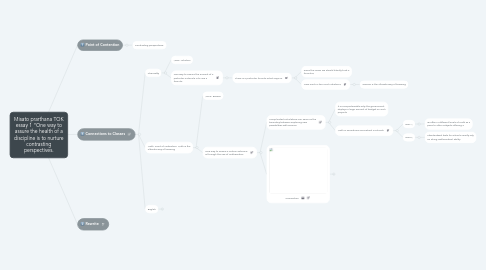 1. Point of Contention
1.1. Contrasting perspectives-
2. Rewrite
3. Connections to Classes
3.1. Chemistty
3.1.1. WOK- intuition
3.1.2. One way to ensure the amount of a particular molecule is to use a formula
3.1.2.1. There is a particular formula which says so
3.1.2.1.1. Does this mean we should blindly trust a formula?
3.1.2.1.2. How much is too much intuition?
3.2. Math- Point of contention: Math is the ultimate way of knowing
3.2.1. WOK: Reason
3.2.2. One way to ensure a certain outcome is through the use of mathematics
3.2.2.1. Complicated calculations can serve as the boundary between exploring new possibilities with science
3.2.2.1.1. It is comprehensible why the government deploys a large amount of budget on such projects
3.2.2.1.2. Math is sometimes overvalued in schools
3.2.2.2. Connection
3.2.2.2.1. WOK
3.2.2.2.2. Framework Area
3.3. English
3.3.1. AOK- imagination
3.3.2. Study of literature
3.3.2.1. Connection
3.3.2.1.1. Poetry is extremely open to interpretation
3.3.2.1.2. Poetry