Centaur Publications Comics (Mar. 1938 - Dec. 1940)
by
Tim Stroup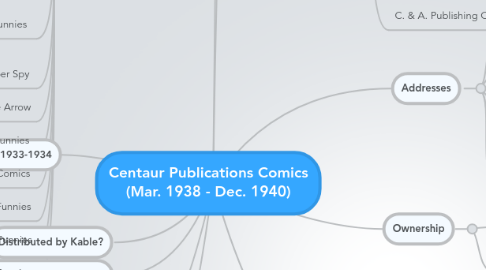 0.0
stars - reviews range from
0
to
5
Centaur Publications Comics (Mar. 1938 - Dec. 1940)
Distributed by Kable?
1940 Death due to?
Files for Bankruptcy Nov. 1940 (MF)
Poor Distribution (HA)
Market Glut (BH)
General economic growth fine (TR)
War (TW)
Not paper rationing cause it didn't start till Spring of 1942 (Batt)
Drop in Comic book and all print circ and glut of comics (MF)
Pulps 1933-1934
Kable Distribution Connection?
Related Companies
Ultem Publications (1937-1938)
Comic Corporation of America CCA (1939-1942)
Harle Publications
C. & A. Publishing Co.
Amazing Mystery Funnies
Comic Pages
Cowboy Comics
Detective Eye
Fantoman
Funny Pages
Funny Picture Stories
Keen Detective Funnies
Keen Komics
Little Giant Comics
Masked Marvel
Star Comics
Star Ranger
Star Ranger Funnies
Super Spy
The Arrow
Uncle Joe's Funnies
Wham Comics
Amazing Adventure Funnies
Little Giant Detective Funnies
Little Giant Movie Funnies
Ownership
Funny Picture Stories v3#1 (Jan 1939) Statement of Ownership
Amazing Mystery Funnies v3#1 (Jan 1940) or Funny Pages v4#1 (Jan 1940) Statement of Ownership
Addresses
Amazing Mystery Funnies v1 #3 (1938) Star Ranger Funnies v2 #5 (Oct. 1939) Funny Picture Stories v3 #1 ( Jan 1940) thru Super Spy #1 (Oct. 1940)
Wham Comics #1 (Nov 1940)
Amazing Mystery Funnies v1 #3
Funny Picture Stories v3#1   (Jan 1939) thru Keen Detective Funnies v2#12  (Dec 1939)
Amazing Mystery Funnies v3 #1 (Jan 1940) thru Wham Comics #1 (Nov 1940)
References
Steranko's Histories
Alter Ego #87
Alter Ego #91
Benton's Comic Book In America (1989)
New York Times 1940
Chesler studio supplied material