The 'Sharent' trap- should you ever put your children on social media?
by Dylan Galle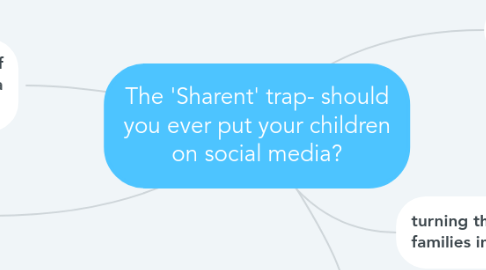 1. Lucrative business
1.1. a lot of bloggers and Instagram stars post pictures of their children
1.2. children embarked on this childhood of unwitting digital documentation
1.3. exploitation of their children
2. turning themselves and their families into brands
2.1. the parents are the one posting the pictures
3. Study by London School of Economics (Preparing for a Digital Future)
3.1. shows 3/4 of parents uses internet to share pictures or videos of their children online
3.2. likely to do this with younger children
3.3. only 3% of parents share pictures publicly
4. is sharing pictures online of our children something we should be worrying about?
4.1. there has to be a line drawn
5. Are generations of children now growing up without privacy?
5.1. The conditions of their privacy are changing for a part because of the actions and partly others