HAUROA
by Jenneh Nepia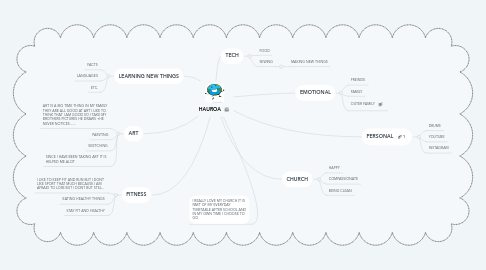 1. EMOTIONAL
1.1. FREINDS
1.2. FAMILY
1.3. OUTER FAMILY
2. PERSONAL
2.1. DRUMS
2.2. YOUTUBE
2.3. INSTAGRAM
3. CHURCH
3.1. HAPPY
3.2. COMPASSIONATE
3.3. BEING CLEAN
4. I REALLY LOVE MY CHURCH IT IS PART OF MY EVERYDAY TIMETABLE AFTER SCHOOL AND IN MY OWN TIME I CHOOSE TO GO
5. ART
5.1. ART IS A BIG TIME THING IN MY FAMILY THEY ARE ALL GOOD AT ART I LIKE TO THINK THAT I AM GOOD SO I TAKE MY BROTHERS PICTURES HE DRAWS +HE NEVER NOTICES......
5.2. PAINTING
5.3. SKETCHING
5.4. SINCE I HAVE BEEN TAKING ART IT IS HELPED ME ALOT
6. FITNESS
6.1. I LIKE TO KEEP FIT AND RUN BUT I DONT LIKE SPORT THAT MUCH BECAUSE I AM AFRAID TO LOSE BUT I DONT BUT STILL..
6.2. EATING HEALTHY THINGS
6.3. STAY FIT AND HEALTHY
7. LEARNING NEW THINGS
7.1. FACTS
7.2. LANGUAGES
7.3. ETC.
8. TECH
8.1. FOOD
8.2. SEWING
8.2.1. MAKING NEW THINGS