The integration of technologies is the key to success when it comes to the production, distribution and exhibition of a product.
by Inés Robledo Costales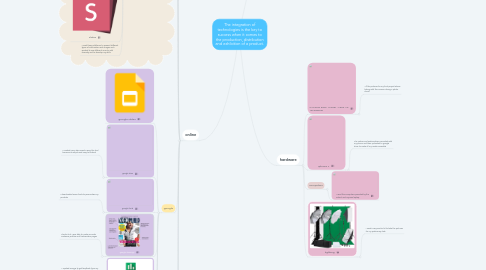 1. software
1.1. powerpoint
1.1.1. One of my presentations was created using powerpoint as a software
1.2. photoshop
1.2.1. Most of my preliminary task, images, and final products are edited using Photoshop, in which I learned a lot in the process
1.3. office publisher
1.3.1. My contents page were asembled together usig publisher, due to its many tools for adapting the text
1.4. imovie
1.4.1. I edited the videos of the feedback from by audience with this programme
2. hardware
2.1. CANON EOS 1100D - Lens AF 18-200mm
2.1.1. All the pcitures for my final project where taking with this camera during a photo shoot
2.2. iphone 7
2.2.1. The videos and audios where recorded with my phone and then uploaded to google drive to make all my media accesible
2.3. computers
2.3.1. I used the computers provided by the school and my own laptop
2.4. lighting
2.4.1. I used a very similar kit to take the pictures for my preliminary task
3. online
3.1. coolors
3.1.1. I used this site to create all the color schemes I added to my blog when I was planning for both my preliminary task and for my final product.
3.2. lucid chart
3.2.1. It was very useful to create visual and colorful drafts for my preliminary task
3.3. flatplan.com
3.3.1. I used it to make a flatplan of how the whole magazine would look like
3.4. coggle
3.4.1. I used it to make mindmaps to organize my ideas
3.5. presentation platforms
3.5.1. visme
3.5.2. emaze
3.5.3. prezi
3.5.4. slides
3.5.5. I used these platforms to present different types of information and images and I wanted to use different ones to add diversity and to develop my skills.
3.6. google
3.6.1. google slides
3.6.2. google docs
3.6.2.1. I created many documents using this tool because its simple and easy to embed
3.6.3. google fonts
3.6.3.1. I downloaded some fonts to personalise my products
3.6.4. google drawings
3.6.4.1. Thanks to it I was able to make accurate audience profiles and frankenstein pages
3.6.5. google survey
3.6.5.1. I created surveys to get feedback from my audience and to do research as well in an easy and effective way
3.6.6. google search engine
3.6.6.1. This is the engine where I got most of my information from
3.6.7. Google has allowed me to embed many of my work into the page which I find very important
3.7. dafont
3.7.1. I downloaded fonts for my product
3.8. issu
3.8.1. I published some already made student magazines with it on my blog
3.9. blogger
3.9.1. I used blogger to create my blog where I upload all of my posts
3.10. social media
3.10.1. I used social media to contact my model fo the photo shoot and use her profile as reference
3.10.2. Youtube
3.10.2.1. All of the videos on my blog were published on Youtube in order to embed them