1.EXPORTING BEATS FOR SYNC LIBARY
by Twiin Flame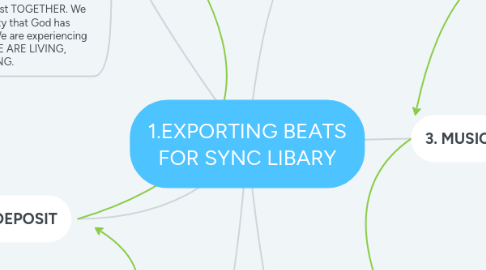 1. 2. META DATA / REGISTRY
1.1. Import proper meta data
1.2. Reg all songs with new titles to BMI
2. 3. MUSIC SUPERVISORS
2.1. Research sups on twitter. linkedin, instagram.
2.2. Where do they place music? (Movies, Shows, Commercials, Games)
2.3. Figure out what tracks would best fit whatever is is they supervise.
2.4. Contact sups with email that is catered directly for them.
3. 4. THE OFFER
3.1. 5 different sups contact me back!! One that is working closely with multiple movies that are coming out. Two that are working for a hot new TV show. One commercial music sup and one gaming sup.
3.2. They all love what they hear, compliment my diverse style and would love to create a long term partnership.
3.3. Each of the 5 sups want to license 5 beats from me for a min of $5,000 each.
4. 5. THE DEAL
4.1. I agree to license 5 beats to each of the 5 music supervisors for a min of $5,000 each which would come to a grand total of $125,000!!
5. 6. THE CHECK / DEPOSIT
5.1. $125,000 FOR 25 BEATS IS OFFICIALLY IN THE BANK!!
6. 7. NOW
6.1. Natalie and Sara are living comfortably!!
6.2. We are paying off any bills/dept
6.3. We are able to help family out enough to give us peace of mind.
6.4. We are able to CREATE EVERYDAY
6.5. We are able to invest in our BRANDS which equals brand growth, which leads to MORE MONEY and SUCCESS!!
6.6. We are now able to live the lavish lifestyle we have always dreamed of WHILE making a positive impact in the world.
6.7. We are now able to get MARRIED, we are traveling the world together while we do what we love to do most TOGETHER. We are seeing all the beauty that God has created in the world. We are experiencing life to the FULLEST. WE ARE LIVING, LOVING AND INSPIRING.