TVL HE-A
by Marin Tomihisa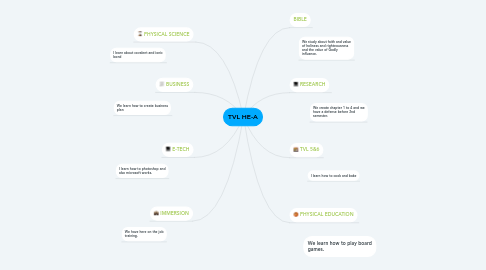 1. BIBLE
2. RESEARCH
3. TVL 5&6
4. IMMERSION
5. PHYSICAL EDUCATION
6. PHYSICAL SCIENCE
7. BUSINESS
8. E-TECH
9. We study about faith and value of holiness and righteousness and the value of Godly influence.
10. We create chapter 1 to 4 and we have a defense before 2nd semester.
11. I learn how to cook and bake
12. I learn about covalent and ionic bond
13. We learn how to create business plan
14. I learn how to photoshop and also microsoft works.
15. We have here on the job training.
16. We learn how to play board games.