COMON SUPPORT PROBLEMS
by Nada N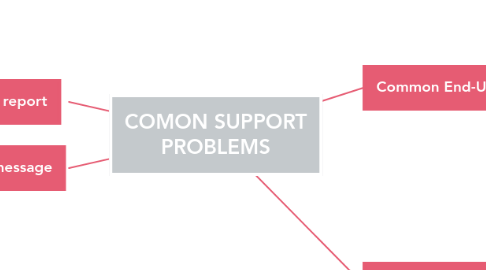 1. Common End-User Problems
1.1. Hardware Problems
1.1.1. ex: Wrong installation.
1.2. Software Problems
1.2.1. ex: Poor performance.
1.3. User Problems
1.3.1. ex: Not enough Information or Training.
1.4. Vendor Problems
1.4.1. ex: Advertise non existing features.
1.5. Documentation Problems
1.5.1. ex: Poorly organized
1.6. Operating Environment Problems
1.6.1. ex: Problems with facilities.
1.7. Network Problems
2. Problem-Solving Processes Applied To Typical End-User Problems
2.1. 1-sounds like trouble
2.1.1. Critical question: has this problem ever happened before?
2.1.1.1. Simple obvious solution: make sure the volume is turned up .
2.2. 2-Free antivirus requesting an update: malware
3. Activity : unresponsive software: a user contacted a help desk with a report
3.1. Causes : the software is doing some very long
3.1.1. Solution : restart the computer.
4. Activity : decipher an internet error message
4.1. Causes: you do not have access to the website
4.1.1. Solution: check for URL error.