LINKING CLAUSES
by Antonio Martinez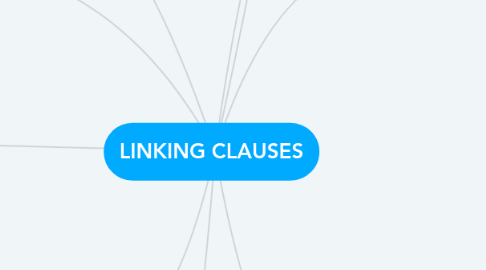 1. WHAT IS CLAUSE LINKING ABOUT
1.1. Human communication is primarily based on utterances, texts, turns in dialogue, not on propositions, sentences or clauses.
2. MAINTAINI
2.1. NOMINAL SUBSTITUTION
2.1.1. As has already been said, the maintenance of reference by anaphora crucially depends on encyclopaedic knowledge and at the same time on a certain familiarity with the corresponding textu
2.2. INFERENTIAL PROCESSES
2.2.1. Reference tracking by nominal substitution needs an inferential backing based on our encyclopaedic knowledge
2.3. SUBSTITUTION BY ZERO
2.3.1. A special case of substitution is zero anaphora or 'anaphorical ellipsis
2.4. DIATHESIS, CLEFTING, EXTRAPOSITION
2.4.1. Reference tracking is one of the reasons why the order of clausal elements can be important.
2.5. SUBSTITUTION BY DUMMIES
2.5.1. Very often, the same inferential processes also hold for substitution by the dummies we use for nouns
3. Hierarchy: downgrading clauses
3.1. AGGREGATION VS. INTEGRATION
3.1.1. Let us take the example of CAUSALITY as a relation frequently expressed in texts.
3.2. JUNCTION: A UNIVERSAL DIMENSION OF LANGUAGE AS A CONCEPTUAL FRAME FOR LINKING TECHNIQUES
3.2.1. The scale of techniques extending between aggregation and integration is a good tertium comparationis for the comparison of languages.
3.3. THE TECHNIQUE OF CLAUSE CHAINING
3.3.1. Sentences as privileged units refer to situations, events, processes, states.
3.3.2. Sentences as privileged units refer to situations, events, processes, states.
3.4. THE TECHNIQUE OF ADVERBIAL
3.4.1. ADVERBIAL conjunctions In this technique of linking, one of the clauses – mostly headed by a conjunction
3.5. CLAUSES AS PARTICIPANTS
3.5.1. Clauses headed by an adverbial conjunction are integrated into a main clause to such an extent that they clearly take on the function of (peripheral) participants.
4. The expression of relations
4.1. When speaking of clause linking, one cannot avoid speaking of the SPECIFIC RELATIONS holding between propositions – see, e.g., above
5. Communicative dynamism
5.1. Right from the beginning of this article it was pointed out that clause linking is not an end in itself. Among the aims it serves are grounding and communicative dynamism
6. Diachronic aspects
6.1. The dimension of junction with its techniques extending between the poles of aggregation and integration is an ideal field for semantic change and for grammaticalization
7. Overall view and concluding remarks
7.1. A layered or encapsulated model of the verb The following table 45.5 synthesizes some authoritative views expressed with respect to the internal structure of verbal groups and clauses.
7.2. The complexity of the finite/ nonfinite distinction In 1980, a seminal contribution was published by Paul Hopper and Sandra A. Thompson.
7.3. Related conceptions Sandra A. Thompson has not only contributed, although in an indirect way, to the finiteness discussion. She wrote also,
8. References
8.1. Bickel, Balthasar. 1991. Typologische Grundlagen der Satzverkettung. Ein Beitrag zur Allgemeinen Grammatik der Satzverbindung und des Fährtenlegens.
9. CLAUSULAS SUBORDINADAS
9.1. Reason (Razón)
9.2. Purpose (Propósito)
9.3. Resultado (Result)
9.4. De tiempo (Time)