LANGUAGE AND CULTURE THEORICAL BACKGROUND
by Gardena Nunez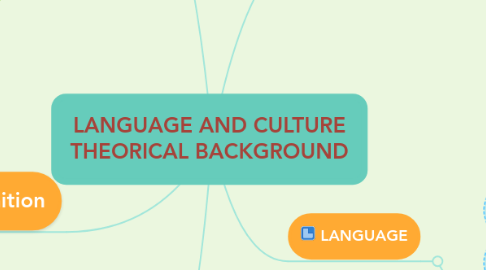 1. CULTURE
2. Language and cognition
3. The principle of linguistic relativity
3.1. Sapir and Whorf argued that individuals are not aware of the influence of language, and it is only when moving between cultures that individuals become aware.
4. LANGUAGE
4.1. The structure of a language determines the way in which speakers of that language view the world
5. cognition
5.1. LANGUAGE - THOUGHTS AND CULTURE
5.2. there is no language without thoughts
5.2.1. Cognition, or thinking, involves mental activities such as understanding, problem solving, and decision making. Cognition also makes creativity possible.
6. We assume that mind is a part of brain function, and we tentatively define the mind as a combination of three main cognitive factors: perception, memory, and consciousness. Language is created by mind, yet, once uttered, words return to the mind, where they are understood.
7. Culture is the social behavior and norms found in human societies.