Rollen in game industrie
by
Peter Uithoven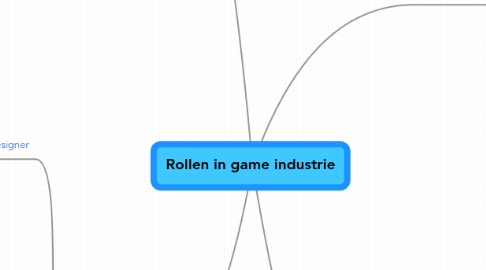 0.0
stars -
0
reviews range from
0
to
5
Rollen in game industrie
Vormgeving
Game designer
Responsibilities, User play experience, Working game-play, At all level, Collaborate, With almost every other team member, Brainstorm concepts, Create prototypes, Playtests and revise prototypes, Write concept and design documents, update it throughout production, Communicate vision for the game to the team, Create levels for the game, Or work with level designers, Act as a advocate for the player
Fills in for, Producer
Writer
Responsibilties, Writes the whole story (beginning, premise, ending etc) of the game and presents it to the other designers/artists.
Art director
Responsibilities, Leads the team of artists and tells the other artists what do do and how.
Creative director
Responsibilities, Keep consistent look and feel across a company's entire product line., Guiding game designers trough problems
Artist
3D artists, Responsibilities, Texture Mapper, 3D Modeling
Character designer, Responsibilities, Does research and creates the characters that are used in the game.
Illustrators, Responsibilities, Creates the illustration that are used in the game, for example the box cover or illustrations in the instruction booklet.
Concept Artist, Responsibilities, Create the environments of characters and works with character designer on characters
Interface Designer
Responsibilities, Create interface elements that interact with the content, Work with game designers to create a coherent user experience
Animators
Responsibilities, Creates the animations of the characters in the game for the programmers to work with.
Lever designers
Responsibilities, Designs and sometimes create the levels the player can play in.
Techniek
CTO
Programmer
Senior programmer, Responsibilities, Lead Programmers, Oversee testing, Document framework needs
Responsibilities, Drafting technical specifications, Implementing technical aspects, Software prototypes, Software tools, Game modules and engines, Data structures, Management of communications, Documenting code, Coordinating with QA engineers to fix or resolve bugs
Specific specialization
Tools programmer, Responsibilties, Setup version control, Setup testing framework, Document API
Engine programmer, Responsibilities, Document Engine, Platform control
Graphics programmer, Responsibilties, Document Graphics API, Work with Game Designers
Database programmer, Responsibilities, Create database schema, Maintenance Database, Scaling Database
Management
Project leader
Responsibilities, Lead Project, Control Budget, Main communication link, Between developer and publisher, Delivery of the game to the publisher as promised, Presenting the team, At conferences, In the press, Making tough decisions, Hiring and firing employees, Saying no to excessive resource or spending requests, Appoint resources
Producer
Producer, Responsibilities, Schedule and budget, Track and allocate resources, Manage team, To complete on time, Creates the plan, Schedule, Budget, Resource allocation, Motivate team, Solve production related problems
Assistant producer, Helps Producer with daily tasks, Plans Agenda, Identifies problems early on
Senior producer, Oversee multiple productions, Guides Producers
Development director, When the game designer is also producer he takes over some conflicting responsibilities, Oversees development in all sections
QA Engineers
QA lead, Manage floor operations, Manage resources
QA Engineer, Responsibilities, Create test plan, For the project, Based on, Design specifications, Technical specifications, Execute test plan, Record, All undesirable behavior, All unexpected behavior, Manage issues, Categorize, Prioritize, Report, Set them as resolved when fixed, Retest after fixes, Check if designs work properly, Check if games functions work, Technically, Aesthetically, Review wireframes/Prototypes
Executive
Responsibilities, Lead managers, Ensure propper funding, Make though calls, Understanding trends, Contact with press
Geluid
Sound Editor
Responsibilties, Selection sound effects, Mix recordings, Editing Recordings
Voice Artist
Responsibilities, Records the vocals for a character in the game
Musician
Responsibilities, Compose and create the music played in the game.