Braulio Assanelli
by Victoria Ferrari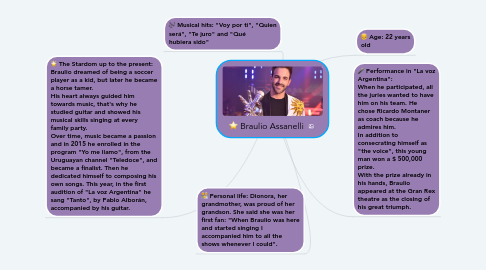 1. Age: 22 years old
2. Musical hits: "Voy por ti", "Quien será", "Te juro" and "Qué hubiera sido"
3. Personal life: Dionora, her grandmother, was proud of her grandson. She said she was her first fan: "When Braulio was here and started singing I accompanied him to all the shows whenever I could".
4. The Stardom up to the present: Braulio dreamed of being a soccer player as a kid, but later he became a horse tamer. His heart always guided him towards music, that's why he studied guitar and showed his musical skills singing at every family party. Over time, music became a passion and in 2015 he enrolled in the program "Yo me llamo", from the Uruguayan channel "Teledoce", and became a finalist. Then he dedicated himself to composing his own songs. This year, in the first audition of "La voz Argentina" he sang "Tanto", by Pablo Alborán, accompanied by his guitar.
5. Performance in "La voz Argentina": When he participated, all the juries wanted to have him on his team. He chose Ricardo Montaner as coach because he admires him. In addition to consecrating himself as "the voice", this young man won a $ 500,000 prize. With the prize already in his hands, Braulio appeared at the Gran Rex theatre as the closing of his great triumph.