WHAT HAPPENS WHEN WOMEN STOP LEADING LIKE MEN
by noor osta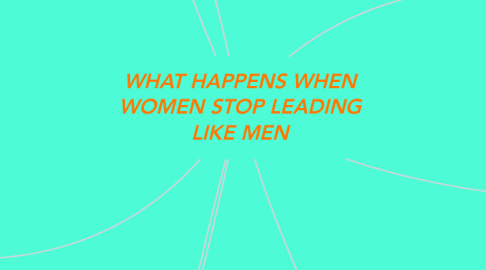 1. purpose: prove the importance of gender roles in society
2. Attempt: women have been viewed as powerless for several years however in past decades this misconception has been proven wrong
3. Assumption; women's only role in society was thought to be bearing children, cooking, cleaning and taking care of the household
4. Point of view: women are no less than men. They are capable of taking initiative and be dominant instead of being submissive.
5. Information and evidence: for example, women can be in control and be in charge for running a country. For instance, the Jacinda Ardern who is the prime minister of New Zealand, she became the first female leader who gave birth in her office and later became portrayed with the peace sign.
6. Concepts and ideas: women can save the world with their intelligence and stubbornness. For example women lead numerous industries and they have top jobs at the New York Stock Exchange and at Nasdaq.
7. Interpretations: we can conclude that excluding women from taking part in the democratic system and becoming leader will not bring peace. As it is mentioned in the article "women have evolved to deal with the intractable perplexities of life and find means of peaceful coexistence where men have traditionally found roads to conflict".
8. Implications and consequences: it is disadvantageous to deny women from leading a nation as we live in a world where gender inequality is unacceptable anymore.