SCORING VS GRADING
by Carlita Landi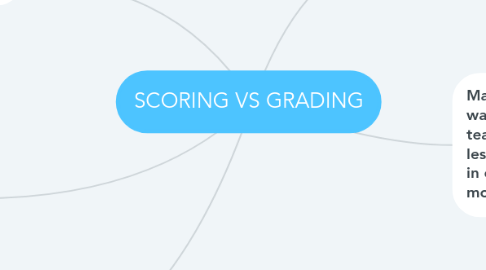 1. The goal is to increase students' engagement
2. Mastery grading is a way in which the teacher organize their lessons and their units in order to students be more successful
2.1. Create a teaching loop to have:
2.1.1. Lesson, practice feedback and introduction practice. In this way students can assess. Besides, students have already reviewed what they didn't know.
3. Classes of assignment
3.1. COMPLAINED ACTIVITIES: in this activity the teacher wants students to do and for development this there are 3Ps to follow: PAY ATTENTION, PRACTICE and PARTICIPATE.
3.2. MASTER ACTIVITIES
4. The goal of scoring is that it's fast that the kids know what they're getting.
4.1. It is going to help you out in the long run,
5. Grading is for any activity that is used to determine the students mastery level.
5.1. The goal is that students master the standards.
5.2. There are some important things about grading: First, the students should know ahead of time what is the goal, what is the objective. They're trying to reach what do they need to do to show mastery. Second, students should know how they're going to be scored. For this, it is important to use a rubric.
5.3. The final grades should be based on their mastery of standards, this means makes categories to grade