Element 37: Using Verbal and Nonverbal Behaviors that Indicate Affection for Students
by Katie Turnbow-Miller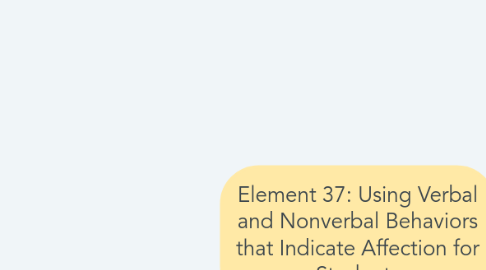 1. Informal Conferences
1.1. Casual check-ins with a student let the student know that the student is cared for.
1.1.1. These check-ins do not have to be long and can include giving compliments, asking for opinions, or congratulating a success.
1.2. A class website is a great way to showcase student success. Encouraging students to post and comment let them know their voices matter.
2. Connecting with Parents/Gaurdians
2.1. Sending home positive emails is another great way to show that you care about your students
2.1.1. Sending a brief, but genuine, email home lets the parent know their student is cared for in the classroom and shows the effort the teacher is putting in.
3. Photo Bulletin Board
3.1. Design a bulletin board that displays students' photos, goals, and interests.
3.1.1. These can change overtime to highlight student success and achievement
3.2. Utilizing technology
3.2.1. Photograph the students at the beginning of the year and photoshop the pictures onto a background of a situation that demonstrates teamwork - displaying the class as a team.
3.2.2. Continue to photograph students throughout the year and display these photos on a slideshow in your room.
3.3. Student of the Month
3.3.1. Incorporate photos of a student on the bulletin board or slideshow with their favorite music, quotes, and reasons why they are student of the month.