Face Saving
by Gabriel Guzman H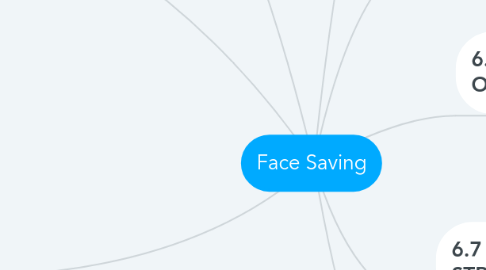 1. 6.1 THE DIMENSIONS OF FACE
1.1. Politeness theory
1.1.1. Face threatening act
1.1.1.1. Negative politeness
1.1.1.2. Positive politeness
2. 6.2 FACE-LOSS AS IT RELATES TO FACE-SAVING
2.1. People are saíd to lose face when they are treated in such a way that their identity claims are challenged or ignored.
2.2. face-loss is an unpleasant experience, seen from the eyes of the harmed party as social humiliation.
3. 6.3 A THREAT TO FLEXIBILITY IN CONFLICT INTERACTION
3.1. change is often a good sign in conflict.
3.2. The emotional side of conflict is intimately connected with a party's flexibility.
3.3. Possible concecuences Of Face-Saving in conflicts
3.3.1. -Reduces parties flexibility -Adds as issue to the conflict -Turns attention away from more tangible concerns -Increases the likelihood of impasse -Encourages an all-ro-nothing approach to resolution -Prompts parties to turn to ouitside people to address concerns
4. 6.4 CONFLICT INTERACTION AS A FACE-SAVING ARENA
5. 6.5 FACE-SAVING FRAMES IN CONFLICT INTERACTION
5.1. 6.5.1 Resisting Unjust Intimidation
5.2. 6.5.2 Refusing to Give on a Position
5.3. 6.5.3 Suppressing Conflict Issues
6. 6.6 FACE-SAVING IN OTHER CULTURES
7. 6.7 FACE-GIVING STRATEGIES
8. 6.8 WORKING WITH FACE-SAVING ISSUES