How does active learning produce long-term retention of understanding key concepts?
by Dalia Salloum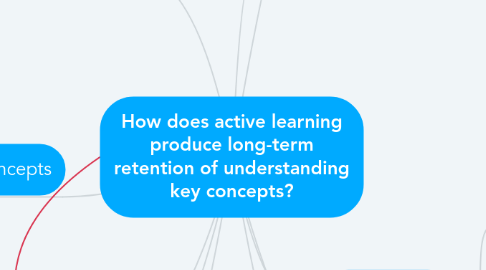 1. Think Pair Share, Talking to Learn, Case Studies, Presenting Competing Ideas, Problem-Based Learning, Team-Based Learning
1.1. What strategies to pair with which concepts
1.2. How to execute strategies so that the activity improves understanding
2. Using effective pedagogy
2.1. Talking to learn
2.1.1. Instructor learns about student thinking
2.1.2. Externalizing
2.1.3. Elaborating
3. Assessment
3.1. Short-term memory
3.1.1. Long-term memory
3.2. Evaluating performance in upper division courses
3.3. Assessing at a later time
3.4. Exit Surveys
4. Appropriate volume of content covered during a semester
4.1. Teaching students how to think
4.2. What can they learn independently?
4.3. 'fairness' with what is covered vs what is assessed on exams
5. Identifying Key Concepts
5.1. Physiology:
5.1.1. how organ systems work individually and together.
5.1.2. Cell physiology
5.1.3. How things move in and out of cells
5.1.4. physics of biology
5.2. Gaining experience as an instructor in areas that student struggle with particularly and areas that are 'easy'.
6. Mastery vs Goal Oriented
7. Importance of Designing Effective Questions
8. Making Connections
8.1. Every-day vs disciplinary views
8.2. Theory vs hypothesis
9. Utilizes research-based methods for different learners
10. Gives Instructors more tools to utilize