READING: ENCOURAGING AND MAINTAINING INDIVIDUAL EXTENSIVE READING.
by BEA HERNANDEZ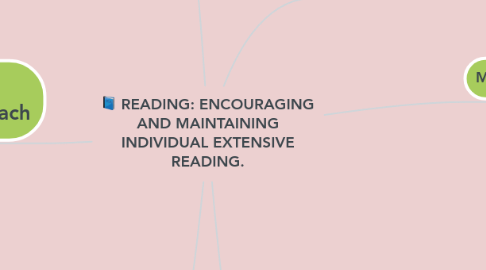 1. The teacher as role model
1.1. The teacher encourages and assists the students with their reading, which the students undertake during and /or after class.
1.1.1. It facilitates the development of prediction skills.
1.1.2. It encourages the exploitation of textual redundancy.
1.1.3. It helps to build confidence with extended texts
2. Aims of extensive reading
2.1. an extensive reading approach is to get students reading in English and liking it.
3. The characteristics of an extensive reading approach
3.1. Reading material
3.2. Student choice
3.3. Reading for pleasure and information
3.4. Extensive reading out of class
3.5. Language level
3.6. Use of dictionaries
4. Pupils need to read extensively for the following reason:
4.1. Extensive reading exposes them to different registers of the target language that they will meet in varied contexts.
4.2. Skills learned through reading are transferred to other areas of language, such as writing and speaking.
5. MOTIVATION FOR READING
5.1. Curiosity
5.1.1. As in the desire to learn about a topic.
5.2. Aesthetic involvement
5.2.1. As in the enjoyment of experiencing a literary text.
5.3. Recognition
5.3.1. As in the gratification in receiving a tangible form of reward for success in reading
6. Extensive reading refers to the less rigorously supervised reading that pupils will do both in and outside the classroom.