Issues based on case study: Illegal charcoal trade threatens Myanmar's remaining mangroves.
by Syazwani Saffar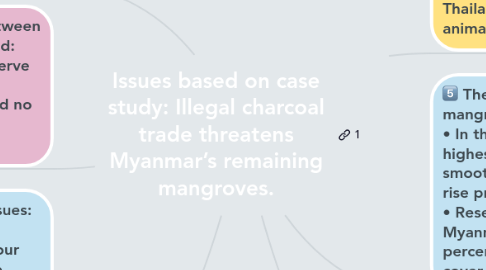 1. Government banned charcoal production issue: Thailand used to produce its own charcoal, but the government banned the particle in the late 1990s.
2. Economy issue between Myanmar and Thailand: The best way to preserve the mangroves in Myanmar is it Thailand no Longest buys our charcoal.
3. Limited job opportunity issues: • In the village make many Burmese good target for labour and way exploitation because mangroves have declined so have onshore catches. • For villagers who wanted to continue fishing they mush costlier and riskier endeavour and making charcoal is less risky than fishing at sea.
4. Smuggling of charcoal illegally issue: In the article after all charcoal gets sorted in Thailand warehouse it gets repackaged in bags adorned with illustrations of smiling shrimp or images of cows. All of these bags say that its contents are now a product of Thailand and they're labelled as animal Feed.
5. The issue of forest encroachment mangroves: • In the article Myanmar has the highest rate of mangrove loss in smoothest a sea largely due to rise production. • Researchers estimate that Myanmar has been losing 2.2 percent of its mangrove forest cover annually since 2000.
6. Corruption to navy patrol of forestry issue: They pay bribes to the officials, often in the form of electronics' such as cell phone or television.