PENANG RECLAMATION: FISHERMAN UPSET AS LAST PATCH OF MANGROVES CLEARED FOR DEVELOPMENT
by Nur Hasanah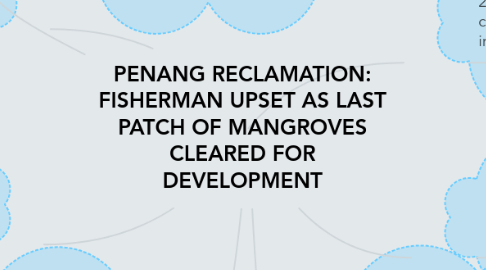 1. 1) Fisherman from Bagan Jermal complaint about an area of nearly 10ha of mangrove was being cleared.
2. 2) Fisherman used to catch crabs, fishes and white prawns in mangrove.
3. 3) A signboard with the words "Lesen Mengambil Hasil Hutan" has been put up.
4. 4) Fiseherman said that the fish catch has been decreased since 40 years ago from around RM2000-RM3000 to hardly RM300 in nowadays.
5. 5) Fisherman took their plight to Nelayan Tanjung Tokong Facebook page to express their unhappiness.
6. 6) That mangrove serve as habitat and landing site for migratory birds.
7. 7) Consumers's Association of Penang continued to be ignored even with tonned of protests.