The impact of using multimedia on students' academic achievement in the College of Education at King Saud University
by Marius Orentas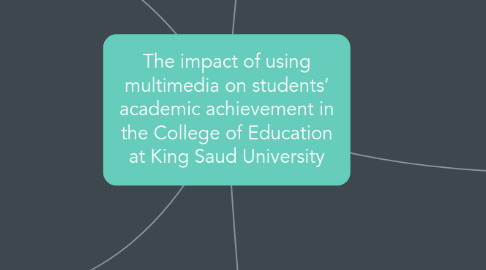 1. Multimedia is one of the best educational techniques because it includes:
1.1. Texts
1.2. Spoken words
1.3. Sound & music
1.4. Graphics
1.5. Animations
1.6. Still pictures
2. Advantages of multimedia programs
2.1. They help learners remember & transfer their knowledge
2.2. They make the reading process a dynamic one instead of the written presentation of the texts printed in the book
2.3. Presenting different drawings & pictures supports the clarification of ideas
2.4. Moving easily from a presented subject to another provides a good chance for questions & discussions
2.5. Using different presentations helps to get the information closer to reality
2.6. They rise the attention & interaction between students & the educational subject
2.7. They help teachers & learners look into topics from a broader perspective
2.8. They guide learners to peer learning
3. Study recommendations
3.1. Using multimedia in theoretical faculties.
3.2. Using multimedia in teaching other theoretical curriculums and using computers
3.3. Giving training courses to computer teachers
4. Study significance
4.1. It raises the female students' academic achievement in computer subjects.
4.2. It develops the teachers' abilities of using multimedia in teaching computer subjects.
4.3. It encourages the use of multimedia in the University
5. Study results
5.1. It is observed that the development of the academic achievement for the experimental group is greater than that of control group. This stresses the effective use of multimedia in presenting computer lessons.