CPD & planning
by
Captain Walker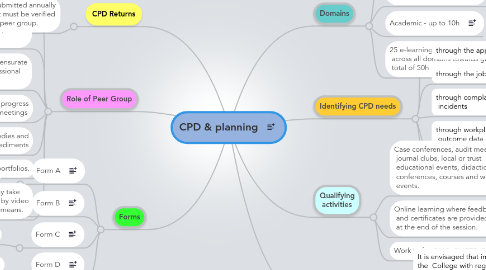 0.0
stars - reviews range from
0
to
5
CPD & planning
This is not a complete guide. Please refer to latest Royal College of Psychiatrists guidance.   In general CPD needs to be Specific Measureable Achievable Relevant Resourced Time limited    
Domains
Clinical - upto 50 h
 - All educational activities that relate to the development of individual clinical and diagnostic skills or updating of specialist knowledge should be recorded in this category. An example would be attendance at a course approved by a medical Royal college. All educational and training events relevant to developing and preserving clinical skills, for example: lectures, seminars, local case conferences, educational activities in a multidisciplinary setting, risk assessment training, case-based discussions and clinical workshops.  
Professional - up to 10
Peer-group meetings (up to 5 credits) Managerial courses  Cardiopulmonary resuscitation training  Equality and diversity training Breakaway training  Mandatory training Governance training  Leadership courses  IT training  Medico-legal training  Mental health law training  Mental capacity training  Writing or reviewing guidance for statutory bodies (e.g. Royal College of Psychiatrists, GMC, NICE) (up to 5 credits - see p. 15) Peer-group meetings (up to 5 credits) Managerial courses Cardiopulmonary resuscitation training Equality and diversity training Breakaway training Mandatory training Governance training Leadership courses IT training Medico-legal training Mental health law training Mental capacity training Writing or reviewing guidance for statutory bodies (e.g. Royal College of Psychiatrists, GMC, NICE) (up to 5 credits – see p. 15)  
Academic - up to 10h
Academic activities might include postgraduate teaching, educational supervision, examining and publishing. You do not need to work in an academic post to claim credits in this section. Clinical audit, teaching and research are all forms of academic CPD. Research (up to 5 credits) Audit (up to 5 credits) Teaching (up to 5 credits) Examining (up to 5 credits) - see p32  
25 e-learning hours can count across all domains towards grand total of 50h
Identifying CPD needs
through the appraisal process
through the job-planning process
through complaints and adverse incidents
through workplace-based assessments, outcome data and audit
identified by the peer group.
Qualifying activities
Case conferences, audit meetings, journal clubs, local or trust educational events, didactic teaching, conferences, courses and workshop-type events.
Online learning where feedback and certificates are provided at the end of the session.
Work in/for GMC, PMETB, RCPsych
Link to Appraisal
It is envisaged that individuals who are in good standing with the College with regard to CPD will not have to provide further detailed evidence of CPD at appraisal unless requested by their appraiser. It is important therefore that the peer group has a robust system in place for approving and monitoring CPD activity in order that the College and appraisers can be assured of the quality of the information contained in the returns.
Forms
Form A
should be prepared before the meeting of the peer group and will form the basis of the discussion. Learning objectives should reflect acquiring, maintaining and developing knowledge and skills as a doctor, a psychiatrist, a specialist and in relation to particular aspects of the job and role within the organisation or proposed developments in the job. These are referred to as levels 1 to 4.   It may be helpful to refer to the following when reflecting on learning needs:   Level 1: Good Medical Practice (GMC, 1998). This sets out core requirements for all doctors.   Level 2:Suggestions for a personal checklist for a PDP, together with the College publication Good Psychiatric Practice (Royal College of Pychiatrists, 2000).   Level 3: The College's Good practice within the psychiatric specialities. This is Appendix 2 of Good Psychiatric Practice (Royal College of Psychiatrists, 2000).   Some level 1 and level 2 objectives will need to be reviewed on a 5-yearly cycle, for example, basic medical skills (CPR, etc.), Mental Health Act updates, refresher courses on the use of psychotropic medication and other recent advances in the management of clinical problems. These objectives will reflect the necessity of maintaining skills. Other objectives may relate to acquiring new skills in relation to specific job requirements or proposed developments, which in turn will need to be maintained and developed.
Form B
records the peer group meeting that is held at the beginning of the CPD/PDP year. After discussions with the peer group the agreed objectives of knowledge and/or skills and their application (benefit for any improvement of health care) are recorded together with a summary of the comments of both the individual and the peer group.   It is sensible to limit the number of objectives to a maximum of six. They should lead to an improvement in the quality of clinical care and should be specific, achievable, realistic and time-limited and have a measurable outcome.   The group will be able to discuss what resources or facilities are required to meet the objectives and they may be able to obtain advice from the College website to assist in this process. If no appropriate resource is easily available the peer group might think of setting up an educational event locally.
Form C
Records CPD activities.  The following should be recorded: CPD activity in clinical audit, with the title of the audit, its findings and the way in which the cycle was completed, including implementation case conferences, difficult-to-manage case discussions and similar events involvement in journal clubs and local postgraduate meetings reflecting participation in the education of others all educational activities such as conferences and workshops (i.e. external CPD), even if they fall outwith the educational objectives set.
Form D
 records the review with the peer group. It is recommended that there should be a minimum of two review meetings with the peer group during each year to check on progress being made, outcomes of educational events and to deal with any problems that may have arisen in implementing the learning objectives.
Role of Peer Group
elect the peer-group coordinator
review and identify learning objectives linked to clinical, academic and professional practice in support of their CPD
approve CPD activity commensurate with each individual's professional development
document meetings, progress of peers and future meetings
provide advice, remedies and support for any impediments
'sign off' CPD portfolios.
Peer-group 'meetings' may take place by conference call, by video link or any other suitable means.
CPD Returns
A return should be submitted annually to the College and it must be verified by a member of the peer group.