VIDEOJUEGOS
by Alejandro Acebo Gómez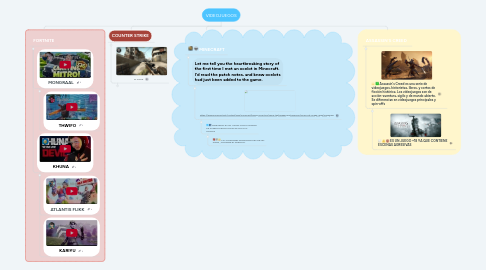 1. FORTNITE
1.1. MONGRAAL
1.1.1. THWIFO
1.2. KHUNA
1.2.1. ATLANTIS FLIKK
1.2.2. KARIYU
2. COUNTER STRIKE
2.1. IN GAME
2.1.1. MÁS SOBRE EL JUEGO
3. MINECRAFT
3.1. Let me tell you the heartbreaking story of the first time I met an ocelot in Minecraft. I'd read the patch notes, and knew ocelots had just been added to the game.
3.1.1. https://www.minecraft.net/content/dam/minecraft/taking-inventory/name-tag/header.jpg.transform/minecraft-image-large/image.jpg
3.1.1.1. MINECRAFT ES UN JUEGO MULTIJUGADOR DE SUPERVIVIENCIA DISFUTA CON TUS AMIGOS
3.1.1.1.1. VÍA JUGADORES PROFESIONALES DE SKY WARS , COMPRAR EL PREMIUM.
4. ASSASSIN'S CREED
4.1. Assassin's Creed es una serie de videojuegos, historietas, libros, y cortos de ficción histórica. Los videojuegos son de acción-aventura, sigilo y de mundo abierto. Se diferencian en videojuegos principales y spin-offs
4.1.1. ES UN JUEGO +18 YA QUE CONTIENE ESCENAS AGRESIVAS