Adoption in USA and in Russia
by В а л е р и я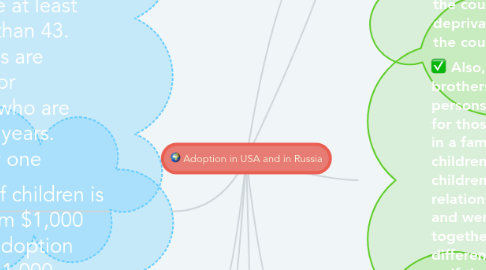 1. In Russia, adoption is allowed for minor children and only in their interests, as well as taking into account the opportunities to provide children with full physical, mental, spiritual and moral development. This decision is considered in the case of: - the presence in the prescribed manner of consent; - death; - unidentified parents or recognition by the court missing or declared dead; - recognition by the court incapacitated; - deprivation of parental rights by the court;
2. Also, in Russia adoption of brothers and sisters by different persons is not allowed, except for those cases when acceptance in a family meets interests of children (for example, when children do not know about the relationship if they did not live and were not brought up together, and also were in different children's institutions, or if they have no opportunity to live together for health reasons).
3. In the United States, in contrast to Russia, 25 States allow the adoption of young people over 18 years, but under certain conditions: - if a person is incapacitated or mentally retarded; - if the candidate for adoption is incapacitated, or stepson, the relationship with which already existed at the time of his minority; - if the person has an adoptive niece or nephew and lived for three months with him until adulthood; - if he is younger than the adoptive parent for at least 15 years
4. In the US, there are different requirements for candidates for adoption, depending on whether it is domestic or international adoption. For example, the age of parents wishing to adopt a child in the country should be at least 25 years and not more than 43. Also in the United States are accepted applications for adoption from couples who are married for at least two years. Adoption of children by one parent is prohibited.
5. Under Russian law, the age difference between an unmarried adoptive parent and an adopted child must be at least sixteen years. Unmarried persons have the right to adopt children on an equal basis with married couples.
6. In the US adoption of children is paid. Its cost ranges from $1,000 to $50,000, where the adoption of adult children costs $1,000, sometimes less, and the adoption of an infant ranges from $20,000 to $30,000.
7. It should be noted that adoption in Russia is free. Candidates for adoptive parents can only use the paid service of agencies that are engaged in legal assistance in the preparation of documents. Adoption is paid only for foreign citizens.
8. To date, same-sex marriages are legalized in Europe (Belgium, France, Denmark, etc.), the UK (except Northern Ireland), Canada, South America and 22 us States.