How can I encourage management self-disclosure of issues and the use of control self-assessment tools and report on it to give them credit for it?
by Brooke Thomas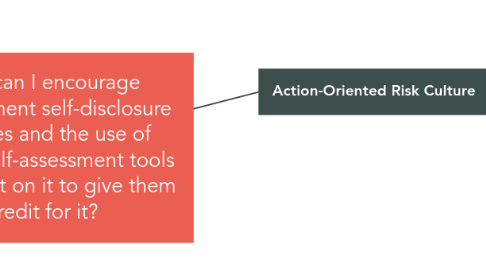 1. Action-Oriented Risk Culture
1.1. Knowledge
1.1.1. Risk Knowledge
1.1.1.1. Risk Management Process Knowledge
1.1.1.1.1. Proportion of workforce that has completed a risk training (annually)
1.2. Mindset
1.2.1. Risk Awareness
1.2.1.1.  Audit encourages transparency and self-reporting of control issues
1.2.1.1.1. Does your audit function assess and rate management risk awareness and responsiveness to Internal Audit as part of your audits? (Figure 5)
1.2.1.1.2. 7. Is management incentivized to self-disclose a portion of audit issues or concerns at the outset of an audit at your organization?
1.2.1.2. Risk Information Sharing
1.2.1.2.1.  Two-way communication system established that incorporates feedback from the business.
1.2.1.2.2.  Information on systemic issues for line management is provided
1.3. Behaviors
1.3.1. Risk Management Behaviors
1.3.1.1. Number of self-reported issues
1.3.1.1.1.  A mechanism for auditees to self-disclose issues is provided.
1.3.1.2. Number of unmitigated risk events per quarter or year (remediation)
1.3.1.2.1.  Forum for the business to create effective remediation