The Internet and Effective Internet Searching
by Chloe Reeve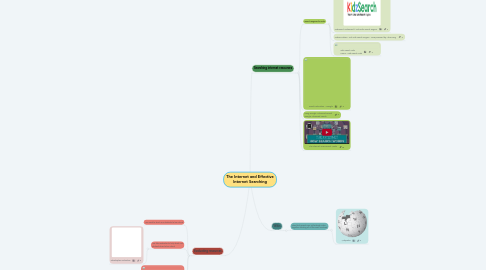 1. Searching internet resources
1.1. Search Engines for Kids
1.1.1. KidzSearch KidzSearch | Kids Safe Search Engine.
1.1.2. KidRex KidRex - Kid Safe Search Engine - Now powered by Alarms.org
1.1.3. Safe Search Kids Home - Safe Search Kids
1.2. Search Education – Google
1.3. Using Google Advanced Search Google Advanced Search
1.4. The Internet: How Search Works
2. Wikis
2.1. Sites that people can collectively make together, sharing all of the work involved
2.1.1. Wikipedia
3. Evaluating resources
3.1. We need to teach our students to be critical
3.2. Use fake websites to help teach our students how to be critical
3.2.1. Christopher Columbus
3.3. Trust It or Trash It?
3.4. The 5 W's of Website Evaluation
3.4.1. https://www.schrockguide.net/uploads/3/9/2/2/392267/schrock_5ws.pdf