Educating for Justice By Karen Enns
by Karen Enns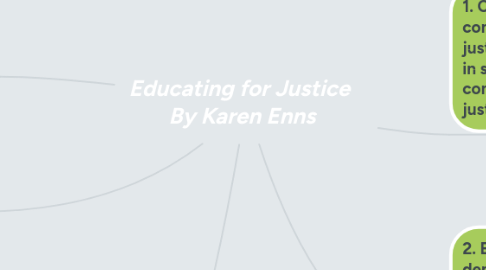 1. 1. Catholic educators who are committed to a faith that does justice should enable all to grow in social consciousness and commitment to the works of justice and peace.
1.1. What might it look like in a Catholic school?
1.1.1. Teacher mentoring student groups that promote student leadership which encourage the creation of ideas, projects, presentations, and support a commitment to and for charitable works, social issues, equity issues, and wellness programs, etc.
2. 2. Educating for justice demands that we educate justly allowing for discernment and decision making and promotes justice in people's lives.
2.1. What might it look like in a Catholic school?
2.1.1. Teachers teach equitably as children of God. Treating each student with respect giving them opportunities to think critically and then allowing them to make their own decisions. Provide students with differentiation and the use of accommodations without judgement as to how to complete a task. Lastly, following through with a clear set of expectations, rules and consequences that are clear to students and are applied to everyone.
3. 3. Catholic education needs to engage people's "souls", encouraging active participation according to their learning style, allowing for conversation and community and then resulting in critical reflection upon their own lives.
3.1. What might this look like in a Catholic school?
3.1.1. Teachers allow for inquiry, exploration and student centered learning. They provide the necessary supports such as accommodations or modifications as set out in the IEP. Teachers give plenty of opportunity for student centered dialogue, self reflection, critical thinking and collaboration. Assessment is meaningful and constructive.
4. 4. Enable people to reflect on social realities in light of spiritual wisdom of Christian faith, especially its social doctrine.
4.1. What might this look like in a Catholic school?
4.1.1. Teachers present information related to current events drawing connections between curriculum, the Catholic Graduate Expectations and the Church's Social teachings. Allowing for open and honest dialogue in a supportive environment.
5. 5. Encourage people to bring their lives to their Faith and their Faith back to their lives while fulfilling their social responsibilities. Enabling people to decide on a faith that does justice.
5.1. What might this look like in a Catholic school?
5.1.1. Encouraging student participation within the school community and parish community. Drawing connections between programs that are helping within the school (e.g., Me to We) and those that are helping in the parish community (e.g., St. Vincent de Paul). Actively encouraging student participation in these types of social justice initiatives while drawing connections to their faith.