Developing an L&D Policy
by Charlie Cork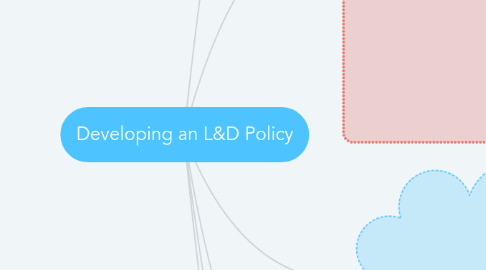 1. Align with organisation's strategic objectives
1.1. What are our aims in terms of performance and growth? How can these be supported through L&D?
2. Meet with stakeholders to identify priorities and practicalities
2.1. Head of Finance - budget considerations
2.2. Head of HR - ensure equal opportunities are reflected, ensure our values are reflected
2.3. Head of Ops - cover off compliance related learning, good manufacturing practices, the training and refreshing of SOPs, customer requirements, considerations related to taking time off the factory floor for L&D activities
2.4. Apprenticeship Manager - available funds, available standards, processes for application, providers
2.5. Sector L&D Leads - link with local training teams, sector operational and regional priorities
2.6. Legal - what are our requirements as a plc e.g. GDPR training?
2.7. Head of Talent - how can our L&D provision contribute to our value proposition as a brand?
3. Write content
3.1. Structure to include aims, philosophy, roles and responsibilities, equal opp's, practicalities, types of learning intervention, factory training, PDP, core training
3.2. Involve Branding and Comms team to make the format engaging and clear for staff
4. Identify evaluation criteria
4.1. Where can we collect data? From whom and in which formats? At which points? What will we do with the data? How regularly will we review our programmes? Do standard materials need to be created?
5. Review with stakeholders
5.1. Present to Manufacturing Forum, HR Forum and Management Board for input and sign-off
6. Comms and engagement plan
6.1. Work with Comms team for input on comms plan and roll out - how can we engage staff from top down?