TEACHING ENGLISH TO PRE-SCHOOL CHILDREN. THE IMPORTANCE OF THE FIRST LESSONS
by у л ь я н а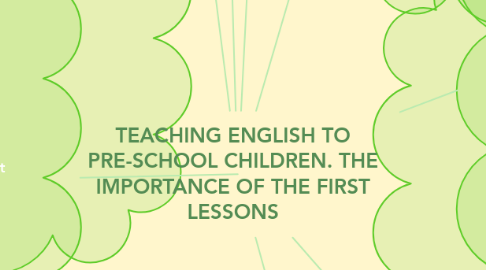 1. Humanistic approaches
1.1. to language teaching share concerns with good pre-school and primary teaching (child-centered approach,activity-based learning): focus on communication and interaction (language use and context) answer the expectations of young learners' practitioners.
2. Abstract: this article focuses on teaching English in ore-school. Focus on communication and interaction answer the expectations of those who teach young learners. Teachers should realize the the necessity to understand how to from communicative competence at such an early stage. So,the article points out the importance of the very first lessons with children which should primarily strengthen young learners' confidence and desire to study a foreign language.
3. With pre-school and early primary students, presentations and practical activities should be based primarily on oral skills and communication impact:
3.1. games that have a goal and provide an a enjoyable experience
3.2. songs and rhymes
3.3. drawing and coloring
3.4. storytelling and playing
4. The priorities can include:
4.1. providing the motivation to teach English
4.2. building confidence
4.3. encouraging children to communicate with the help of any language they have (mime, drawing, gesture)
4.4. giving a child experience of a wide range of language in a nonthreatrning environment
4.5. showing that English is fun, etc
5. I was always affected by the aims put in the syllabus in Tanzania:
5.1. children should display pleasure and confidence in exploring the language
5.2. children should want and dare to communicate
5.3. children should learn to cooperate with others and share with others
6. Group formation activities might be:
6.1. "Ruchejek" (a game when we choose a partner,saying "Hello")
6.2. "Broken telephone" (playing the mime)
6.3. listening to nice songs and dancing
6.4. children draw the characters from the first page of the course-book
6.5. children act out the characters
6.6. they can play hide-and-seek or do any other activity
6.7. provoking,acting together
7. In this way children will start learning in the environment which will:
7.1. provide ideal context to introduce,recycle and practice the language
7.2. produce maximum motivation
7.3. encourage active participation
7.4. provide joy and feeling of success
8. Сonclusion: Experience shows that the first lessons have a very strong effect om young learners,this is an early and important experience,which strengthens the child's confidence in his/her own abilities in general and ability to learn a foreign language as well.