Digital Marketing Technologies
by Rachel McKim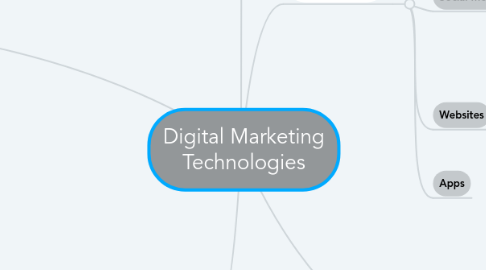 1. Technology
1.1. Advertising
1.2. Film & Broadcasting
1.2.1. Podcast
1.2.2. Virtual Reality
1.2.3. Youtube
1.3. Email Newsletters
1.4. Social Media
1.4.1. Facebook
1.4.1.1. Facebook Groups
1.4.1.2. Facebook Live
1.4.2. Instagram Influencers
1.4.3. Twitter
1.5. Websites
1.5.1. Forum Site
1.5.2. SEO
1.5.3. Blogs
1.6. Apps
2. Companies/Sectors
2.1. Housing/Construction
2.1.1. Interactive five technology
2.2. Gaming
2.3. Fashion
2.3.1. All Online Brands
2.3.1.1. Blogs/Hash Tags/Personal Customer pages
2.4. Sports
2.4.1. Nike
2.5. Health Sector
2.6. Data Collection Companies
3. Concepts
3.1. Apps
3.1.1. Clue: Analyses menstruation cycle, symptoms, pain levels and gives timetabled information about fertile periods
3.1.2. Pillow: Analyses sleep cycles, quality and provides detailed report
3.1.3. Blood Pressure Companion: Monitors blood pressure, creates visual diagrams and charts for customers and data can be shared with doctors
3.1.4. Pokemon Go: Tracks location, how far people walk, age, gender.
4. Health Issues
4.1. Breathing issues/Asthma
4.2. Obesity
4.3. Insomnia
4.4. Blood Pressure
4.5. Periods/Cycles
4.6. Mobility Issues
4.7. Smoking
5. Potential Applicable Clients
5.1. Pfizer
5.1.1. Clinical trials, research & development, new medicines. Aims to support independent management of health and use of new technologies
5.2. Johnson&Johnson
5.2.1. The Janssen Pharmaceutical Companies: Treatments, medicine and research: Immunology, Cardiovascular & Metabolic Disease, Pulmonary Hypertension Infectious Diseases & Vaccines, Neuroscience, Oncology
5.3. Kowa Pharmaceutical Europe
5.3.1. Research, develop, manufacture and market over-the-counter, drugs, healthcare products, medical devices and prescription medicines.