SOCIAL CONSTRUCTIVISM -VYGOTSKY-
by Ivania Huera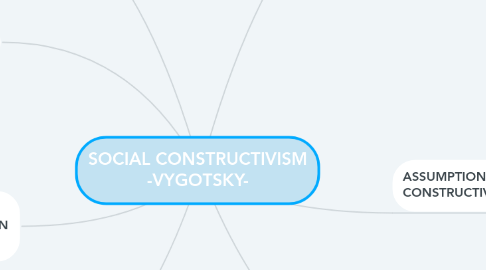 1. VYGOTSKY
1.1. DEFINITION
1.1.1. Human learning and knowledge are constructed through social interaction and is a shared experience rather than an individual experience (Vygotsky, 1978).
1.2. THEORIES
1.2.1. Language Development
1.2.1.1. Social Speech
1.2.1.2. Private Speech
1.2.1.3. Silent Inner Speech
1.2.2. ZPD
1.2.2.1. there are some things a child cannot do independently, but they would be able to do with the assistance of someone else
1.2.3. - Understanding this theories:
1.2.3.1. building a classroom where interaction is prominent helps develop effective classrooms.
1.2.4. Imaginative Play and Cognitive Development
1.2.4.1. Develop meaning and make sense of the world they live in and also develop their thinking skills as well as their use of language
1.2.5. Cognitive development
1.2.5.1. social interactions in children help them to discover and create meaning from the things that they discover.
2. ASSUMPTIONS OF SOCIAL CONSTRUCTIVISM
2.1. REALITY
2.1.1. Culturally constructed
2.1.2. Constructed through human activity
2.1.3. Non-existent prior to social invention
2.2. KNOWLEDGE
2.2.1. A human product
2.2.2. Socially constructed
2.2.3. Individuals create meaning through their interactions with each other and the environment
2.3. LEARNING
2.3.1. Social process
2.3.2. Meaningful learning occurs when individuals are engaged in social activities.
3. SOCIAL CONSTRUCTIVIST APPROACHES
3.1. Reciprocal teaching
3.2. Peer collaboration
3.3. Cognitive apprenticeship
3.4. Problem-base Instruction
4. GENERAL PERSPECTIVES OF SOCIAL CONSTRUCTIVISM ON LEARNING
4.1. Cognitive tools perspective
4.2. Idea-based social constructivism
4.3. Pragmatic or emergent approach
4.4. Transactional or situaded cognitive perspective
5. APPLYING SOCIAL CONSTRUCTIVISM
5.1. Group work
5.2. Class debates
5.3. Role-playing / Performances
6. STUDENT DEVELOPMENT
6.1. Students learn to become cooperative and collaborative
6.2. Skills become transferrable into real-world contexts
6.3. Students develop metacognition: awareness and understanding of one's own thought processes.
7. TEACHER'S ROLE
7.1. Active creators
7.1.1. Link with previous experience
7.1.2. Ask questions, explore and assess prior knowledge to develop prior understanding
7.2. Active techniques
7.2.1. Problem solving