WHAT ALL LIVING THINGS HAVE IN COMMON
by Dana Brumbelow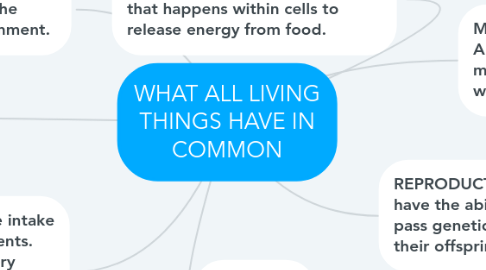 1. MOVEMENT: All living things move in some way
2. REPRODUCTION: All living things have the ability to reproduce and pass genetic information onto their offspring.
3. GROWTH: All living things grow
4. RESPIRATION: Respiration is a chemical reaction that happens within cells to release energy from food.
5. SENSITIVITY: The ability to detect changes in the surrounding environment.
6. EXCRETION: Getting rid of waste.
7. NUTRITION: The intake and use of nutrients. This occurs in very different ways in different kinds of living things.