BestChicagoWholesaleDeal.com Get your first Real Estate Deal done in 30 days.
by Russell J Walker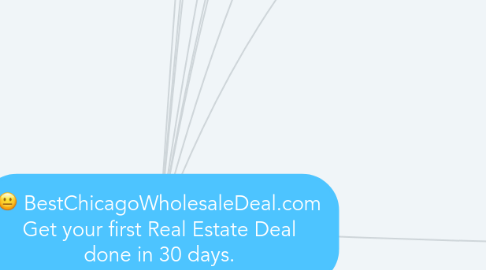 1. Who am I and What is Wholesaling Real Estate?
1.1. -Whom am I? Russell J Walker -Close 15 deals per month Wholesale, Rent To Own, Straight Option, Partner with owners -Air BNB host have 60 listings -Purchased and Rehabbed over 120 properties -Own 60 rental units -Owner of Best Chicago Wholesale deals biggest wholesaling company Chicago IL area
1.2. Wholesaling Explained
1.2.1. 1-Find the property (Marketing) 2-Evaluate the property 3-Get the contract signed with seller (Negotiate) 4-Sell the contract for a higher price to a buyer 5-Go to closing assign or double close Never own the property
2. Marketing for Leads
2.1. Wholesaling Is all about marketing
2.1.1. Online marketing Adwords, youtube, FB ads,, Instagram,
2.1.2. Offline marketing Direct Mail, Bandit signs, News papers, FSBO Bird dogs, JV partners Skip trace lists cold call it or RVM
2.2. Direct Mail Marketing
2.2.1. 1) The List Target the location, Target the distress 2) Direct mail piece What does your postcard or letter say? Branded vs unbranded? Do both Scale to as large as you want
2.3. Bandit signs Marketing
2.3.1. Scalable Say We buy houses fast for cash number Get non traceable google voice number Do it yourself or hire someone Do both branded and unbranded
2.4. FSBO sites
2.4.1. Zillow for sale and for rent Craigslist FSBO.com Forsalebyowner.com Cold call or text
2.5. Skip trace list and call
2.5.1. Buy a list Skip trace list Cold call the list RVM the list
2.5.2. BestChicagoWholesaledeal.com/webinar 10,000 leads with phone numbers per month any zip code nationwide change zip codes every month
3. Setup your Business FREE!
3.1. Phone free google voice
3.2. Website I would buy a domain and use Weebly to build one for only 20 dollars.
3.3. CRM Podio is free.Important to have a CRM Follow up is key
3.4. Or BestChicagoWholesaledeal.com/webinar CRM, Website setup, Dialer, Leads
4. How to make the offers
4.1. Wholesale offer formula
4.1.1. After rehab value (ARV) x times 70 percent - minus rehab costs - minus your wholesale fee = Max Allowable offer Average of 3-4 similar properties, within ½ to 1 mile, sold in last 6 months. Square footage is 15 percent plus, Look for renovated property We use Redfin.com Repairs Gut rehab 30 dollars sq foot, Cosmetic rehab 20 dollars sq foot, Good condition 10 dollars sq foot.
4.2. Wholesale formula example
4.2.1. After rehab value $200,000 Minus Repairs gut rehab 1,000 sq feet, plus 1000 sq feet with basement. Total 2,000 sq feet times 30 dollars per sq foot = $60,0000 Minus your wholesale fee $10,000 200,000 x times 0.70 (70 percent) – minus repairs 60,000– minus your wholesale fee 10,000= Max allowable offer Your Max allowable offer is $70,000
4.3. Learn how we make 5 different offers to ever lead BestChicagoWholesaleDeal.com/webinar
5. Talking to sellers Initially
5.1. Build rapport, Follow a Script Mirror and match Tonality, Energy levels, pitch. Be a chameleon. People like people like themselves Assume your already friends. Be sincere Goal is to set appointment with Decision Maker or Schedule a phone call with DM
5.2. All about mindset Negotiations
5.2.1. Change your state before talking to sellers Get into a peak state when you need energy Get into a beautiful state 3 things your grateful for step into it 3 goals you want to achieve walk into it be their Do it 3 to 4 times a day or more Control your internal state control your life
6. what to bring on the appointment
6.1. Folder write your numbers down Lead sheet from podio Print out 3 lowest comps sold and 3 lowest active/pending comps 2 prefilled out Purchased contracts Repair Checklist Camera to take pics Lock box if vacantBusiness card
6.2. Before appointment
6.2.1. Research all sold comps in the area redfin.com Research all active and pending comps in the area. Visualize yourself getting the contract Act as if you have a million dollars cash in the bank. Don't be needy
7. Meeting with Sellers the Read Personality types
7.1. Goal is to build a deep rapport with the seller Remember people like people like themselves be a chameleon Levels of Rapport 1 Tolerance, 2 Neutral, 3 Understanding, 4 Identification, 6 Liking, 6 Seduction Rapport is the ability to enter someone else's world to make him feel you understand him, that you have a strong common bond.
7.2. Analytical
7.2.1. The Analytical Need to know everything before they do anything. Motivated by facts like things in writing is nonresponsive is non-assertive likes rigid timelines slow to make decisions
7.3. Driver
7.3.1. The driver Don't waste their time make offer right away. Let them win negotiation battle. assertive but nonresponsive likes control in a hurry get to the point poor listener firm stubborn and tough decisive makes decisions quickly
7.4. Social
7.4.1. The social Just wants to get to know you. Do not bring up the property until they do. Assertive and responsive likes to build relationships enthusiastic and optimistic short attention span flexible and spontaneous fast to make decisions impulsive
7.5. social consciuos
8. Negotiations how to close?
8.1. Price Objection
8.1.1. Justify price Start with the lowest comps bring them with you Bring repair checklist check off all repairs needed Show the seller the comps and the repair checklist to justify your price.
8.2. Assume close
8.2.1. Give the seller alternate choice close Example check or wire? Close on the 11th or 14th? Would you prefer leave the keys at the title company or should I pick them up?
8.3. Overcome Objections
8.3.1. Overcome every objection I have to think about it Have to talk to my wife Have to talk to my attorney
8.4. Fear of Loss
8.4.1. Fear of loss Mr Seller I like you and your property and would like to get this done today. But you see I have limited cash and I have 6 other appointments today and tomorrow and I can only commit to one. So if we cant come to agreement now then I cant guarantee this offer will still be on the table after I leave.
8.5. Main Goal
8.5.1. Main goal is to help the owner out of their situation. build rapport create a new friendship These tactics are used to break thru get past the neutral part to create a friendship How much easier is business knowing your trying to get a new friend every time you pick up the phone?
8.6. Get Contract signed
8.6.1. You are their to get the contract signed no matter what Be tenacious Always remind them you are paying all closing costs, seller does not have to pay a realtor commission. Seller does not have to fix anything.
9. Conversion rate
9.1. What is your conversion rate?
9.1.1. 30 leads to 1 deal 50 leads to 1 deal Track your conversion rate The better you get at negotiating with sellers the better your conversion rate will be. Add different offers BestChicagoWholesaledeal.com
9.2. Want to sky rocket your conversion rate learn
9.2.1. make a Sandwich rent to own offer Wholesale rent to own offer Straight Option offer Partner with the owner Quick turn lease or sub lease This your conversion rate down from 30 to 1. 10 to 1 even 5 to 1. can take Key is helping the owner. The more tools you have the more you can help them.
10. CONTRACTSIGNED NOW WHAT?
10.1. Explain the process Send contract to title company to check title Need access to property for funding partners and contractors. (get lockbox on if vacant) Attorney will be in contact with sellers attorney to setup closing and sign docs. Get pics of entire house. Use google photos to share
10.2. Need to find a title company Or attorney
10.2.1. Depending on your state You will need to find an investor friendly title company or attorney Make sure they already do wholesale deals. Do not get someone new at this. Find from facebook, Local REIA, Can they do assignments, double closings?
11. FIND A BUYER?
11.1. Email own buyers list Bandit signs Craigslist Meetup.com local REI groups Facebook groups marketplace Postcards cash buyers Zillow for rent landlords Redfin.com find realtors recently sold properties in the area Skip trace cash buyers list Contact all buyers Cold call or RVM
12. Closing Day
12.1. Assign the contract? Over 25,000 profit Double close? Add buyer and quit claim off? Do you need transactional funding?
12.2. Make sure buyer is ready Make sure seller is ready Make sure you position assignment fee upfront with seller and buyer so you don't have to argue Get paid
13. Automation Systems and Tools
13.1. Eventually get an automated CRM that can save you a lot of time making offers and following up with everyone If you can save hours a day making offers that is worth it We use automation to save time. Our CRM automates 5 offers and Follow up
13.2. Website to build both buyers and sellers list Dialing system to call 10 times more leads in a day Dirt Cheap leads with phone numbers for sellers BestChicagoWholesaleDeal.com/webinar
14. Key is making offers daily ritual and tracking conversion rate.
14.1. You must make at least 1 to 2 offers every day to be successful. Nothing happens without making an offer! Write down your goal how much you wan to earn? Reverse engineer it. New investors conversion rate might be 30 offers to 1 deal. By getting better at negotiating, learning how to make more than 1 offer your conversion rate can go down 10 offers to 1 deal. Even 5 to 1!
14.1.1. Reverse engineer your goals
14.2. Reverse engineer your goals
14.2.1. New investor wants to make $120,000 per year New investors 30 offers to 1 deal. Average make $5000 per closed deal Need to close 24 deals per year 720 offers per year (30 x24) 60 offers per month 15 offers per week 3 offers per day 5 days per week
14.3. time management
14.3.1. Get Busy Wake up 2 hours earlier everyday Make 3 offers per day Use lunch breaks to call sellers See at least 5 sellers a week Hustle now for freedom later Setup an LLC or S CORP after your first deal
14.4. .
15. For more info from me
15.1. Websites CRM automation Follow up automation Dialing system Leads with phone numbers Weekly mastermind Online training videos Affiliate program to build your own team
15.2. Company Best Chicago Wholesale Deals Contact Russell J Walker 773-231-7405 [email protected] More info about us BestChicagoWholesaleDeal.com/webinar