Ch 3: Personal Autonomy and Moral Agency- Ethical Choices
by Claudia Holcomb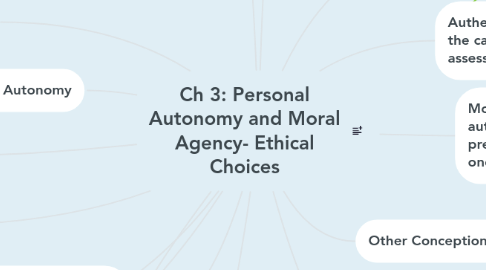 1. Competent Choice: A moral agent (a) makes an independent choice and (b) execises his capacities to engage in rational deliberation.
2. Independent Choice: A moral agent exercices his capacity to choose while being under no constraint or compulsion.
3. Substantive Autonomy: The view that maximum autonomy requires that our basic values be consistent with human fulfillment and flourishing, including the foundational values of morality.
4. Authentic Choice: A moral agent makes both (a) independent choice and (b) a competent choice and (c) exercices his capacity to authentically asses his values.
5. Moral Deference: Respecting another person's choices without interferring.
6. Paternalism: Overruling people's choices and actions for their own good.
7. Moral Responsibility: Being morally accountable to others for one's own choices (deserving blame or praise)
8. Authenticity Condition: A person must have the capacity to discern and personally assess his own values.
9. Moral Capacity: Fulfilling the three autonomy conditions; when one's state precludes autonomy for a period of time, one lacks capacity over that time.
10. Competency Condition: A person must have the capacities necessary to rationally deliberate about her choices.
11. Autonomous: Able to make free choices as a self-determining individual.
12. Independence Condition: A person must have the capacity to make choices and not to be under the control of an external constraint or inner compulsion.
13. Implications of Autonomy
14. Moral Agent: A person who satisfies the conditions of autonomy and is able to appropiately apply these capacities to a specific choice.
15. Other Conceptions of Autonomy
15.1. Value-neutral autonomy: The view that maximum autonomy amounts to choosing our values without constraint and that any set of values can serve equally well as the basis for a person's choices.
16. Relational Autonomy: Rejects individualism and emphasizes the role of human interdependencies in self-discovery, establishing intentity, developing authentic values, and trusting oneself.