PM² Project Management Methodology Guide 3.0
by Tomislav Mičetić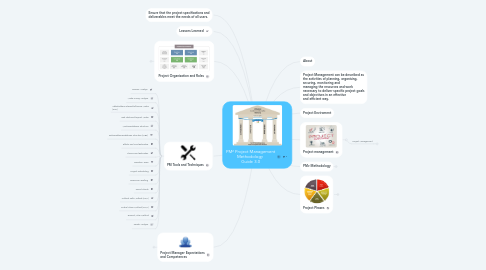 1. Project management
1.1. About
1.2. Project Management
1.2.1. Project
1.2.1.1. Temporary- has a well-defined start and end.
1.2.1.2. Unique output - project's product or service has not been created before. It may be similar to another product, but there will always be a degree of uniqueness.
1.2.1.3. A project's output may be a product (e.g. a new application) or a service (e.g. a consulting service, a conference or a training programme).
1.2.1.4. The project is defined, planned and executed under certain external (or self-imposed) constraints.
1.2.2. Why?
1.2.2.1. In response to a client request for a new product or service.
1.2.2.2. In response to a market demand or opportunity for a new product or service.
1.2.2.3. In response to a change in legislation or organisational needs.
1.2.2.4. In response to an audit which outlines improvements that should be made.
1.2.2.5. In response to a new product or service from a competitor.
1.2.2.6. To make use of a new technology.
1.2.2.7. To integrate processes in the light of the merger of two or more departments.
1.2.2.8. To update an existing process.
1.2.2.9. To relocate to new premises.
1.2.2.10. To raise awareness on a topic.
1.2.2.11. To provide a proof-of-concept.
1.2.2.12. To migrate information to a new document management system.
1.2.2.13. To improve an existing service.
1.2.3. Project Management can be described as the activities of planning, organising, securing, monitoring and managing the resources and work necessary to deliver specific project goals and objectives in an effective and efficient way.
1.3. Project Enviroment
2. PM2 Methodology
2.1. House of PM2
2.2. PM2 Lifecycle
2.3. PM" Phase Drivers and Key Artefacts
2.4. What is?
2.5. PM2 Mindsets
2.6. Tailoring and Customisation
2.7. PM2 and Agile Management
3. Project Organisation and Roles
3.1. Stakholders
3.1.1. involved in a project's work
3.1.2. other internal organisations
3.1.3. external to the organisation (e.g. contractors, suppliers, users or the general public)
3.2. Appropriate Governance Body
3.2.1. Defines the corporate and business domain strategy.
3.2.2. Agrees to and implements a portfolio management framework to achieve the strategic objectives.
3.2.3. Identifies, evaluates and authorises programmes and projects for implementation.
3.2.4. Monitors and controls portfolio delivery performance.
3.2.5. Optimises and manages portfolio resources and benefits
3.3. Project Steering Committee
3.3.1. Champions the project and raises awareness of it at a senior level.
3.3.2. Guides and promotes the successful execution of the project at a strategic level, keeping the project focused on its objectives.
3.3.3. Ensures adherence to the organisation's policies and rules (e.g. IT governance, data protection, information security, document management, etc.).
3.3.4. Provides high-level monitoring and control of the project
3.3.5. Authorises transition between Phases unless this is performed by the Appropriate Governance Body (AGB).
3.3.6. Authorises deviations and scope changes with a high project impact and has the final say on decisions.
3.3.7. Deals with escalated issues and conflicts.
3.3.8. Drives and manages organisational change related to the project's outcomes.
3.3.9. Approves and signs off key management milestone artefacts (i.e. Project Charter, Project Work Plan).
3.4. Project Owner
3.4.1. Acts as the project champion, promoting the project's success.
3.4.2. Chairs the Project Steering Committee (PSC).
3.4.3. Provides leadership and strategic direction to the Business Manager (BM) and Project Manager (PM).
3.4.4. Sets the business objectives and accepts the Business Case for the project.
3.4.5. Owns the business risks and ensures that project outcomes are in line with business objectives and priorities.
3.4.6. Mobilises the resources necessary for the project, in accordance with the agreed budget.
3.4.7. Regularly monitors project progress.
3.4.8. Coordinates the resolution of escalated issues and conflicts.
3.4.9. Drives organisational change and monitors proper evolution and change implementation.
3.4.10. Approves and signs-off on key management milestone artefacts (Business Case, Project Charter, Project Handbook, Project Management Plans, Business Implementation Plan, etc.).
3.5. Solution Provider
3.5.1. Assumes overall accountability for the project deliverables and services requested by the Project Owner (PO).
3.5.2. Mobilises the required resources from the provider side and appoints the Project Manager (PM).
3.5.3. Approves the objectives of any outsourced activities and deliverables and becomes accountable for the contractor's performance.
3.6. Bussiness Manager
3.6.1. Guarantees cooperation and an efficient communication channel with the Project Manager (PM).
3.6.2. Coordinates the Business Implementation Group (BIG) and acts as a liaison between the User Representatives (URs) and the provider organisation.
3.6.3. Ensures that the products delivered by the project fulfil the user's needs.
3.6.4. Manages the activities on the business side of the project and ensures that the required business resources are made available.
3.6.5. Decides on the best way to introduce business change or re-engineering actions, when needed.
3.6.6. Ensures that the business organisation is ready to accommodate the project's deliverables when they are made available by the Solution Provider (SP).
3.6.7. Leads the implementation of the business changes within the user community.
3.6.8. Coordinates the schedule and delivery of any user training (and production of related material).
3.7. Project Manager
3.7.1. Executes the project plans as approved by the Project Steering Committee (PSC).
3.7.2. Coordinates the Project Core Team (PCT), ensuring the effective use of the allocated resources.
3.7.3. Ensures that project objectives are achieved within the identified constraints, taking preventive or corrective measures where necessary.
3.7.4. Manages stakeholder expectations.
3.7.5. Oversees the creation of all management artefacts (except the Project Initiation Request, Business Case and Business Implementation Plan) and secures approval from the Project Owner (PO) or the Project Steering Committee (PSC).
3.7.6. Ensures the controlled evolution, of products delivered, through proper change management.
3.7.7. Performs risk management activities for project-related risks.
3.7.8. Monitors project status and reports to the Project Steering Committee (PSC) on project progress at regular predefined intervals.
3.7.9. Escalates unresolvable project issues to the Project Steering Committee (PSC).
3.7.10. Liaises between the Directing and Performing Layers of the project.
3.8. Bussiness Implementation Group
3.8.1. Analyses the impact of the project's implementation on ongoing operations, existing business processes, staff and organisational culture.
3.8.2. Participates in the design and updating of affected business processes.
3.8.3. Prepares the affected business area for the upcoming change.
3.8.4. Advises the Business Manager (BM) on the organisation's readiness for change.
3.8.5. Embeds the project deliverables into business operations and implements the organisational change activities that fall within the project's scope.
3.9. User Representatives
3.9.1. Help define the business needs and requirements.
3.9.2. Ensure that the project specifications and deliverables meet the needs of all users.
3.9.3. Review the project specification and acceptance criteria on behalf of the users.
3.9.4. Communicate and prioritise user opinions in the Project Steering Committee (PSC) and ensure that these opinions are taken into consideration when decisions are made whether or not to implement a proposed change.
3.9.5. Participate in demonstrations and pilot phases as needed.
3.9.6. Perform user acceptance tests.
3.9.7. Sign off on user-related documents (requirements document, deliverable acceptance testing, etc.).
3.9.8. Guarantee business stability during the transition towards the new operational state.
3.10. Project Core Team
3.10.1. Participates in developing the project scope and planning project activities.
3.10.2. Carries out project activities based on the Project Work Plan and schedule.
3.10.3. Produces project deliverables.
3.10.4. Provides the Project Manager (PM) with information on the progress of activities.
3.10.5. Participates in project meetings as needed and helps resolve issues.
3.10.6. Participates in the Project-End Review Meeting during the collection of Lessons Learned.
3.11. Contractors Project Manager
3.12. Project Management Assistant
3.13. Project Support Team
3.13.1. Provides administrative support to the project.
3.13.2. Defines requirements for reporting and communication.
3.13.3. Administers Project Steering Committee (PSC) meetings and drafts related reports.
3.13.4. Supports the Project Manager (PM) in planning, monitoring and controlling the project.
3.13.5. Advises on project management tools and administrative services.
3.13.6. Manages the project documentation (versioning, archiving, etc.).
3.14. Project Support Office
3.15. Project Quality Assurance
4. Project Phases
4.1. Initiating
4.1.1. Project Initiation Request
4.1.1.1. requestor
4.1.1.2. bussiness needs - why?
4.1.1.3. desired project outcomes
4.1.2. Business Case
4.1.2.1. project justification
4.1.2.2. defines its budgetary requirements outlined in sections covering the business context
4.1.2.3. problem description
4.1.2.4. project description
4.1.2.5. possible alternative solutions
4.1.2.6. costs and timetable
4.1.3. Project Charter
4.1.3.1. milestones
4.1.3.2. deliverables
4.1.3.3. project organisation
4.2. Planning
4.2.1. Kick-off Meeting to officially start the Planning Phase
4.2.2. Project Handbook, which defines the project's management approach
4.2.3. Project Work Plan (Work Breakdown, Effort and Costs, Schedule)
4.2.4. Project Stakeholder Matrix, which identifies all project stakeholders
4.2.5. other important plans such as the Communications Management Plan, the Transition Plan and the Business Implementation Plan
4.3. Executing
4.3.1. Running the Executing Kick-off Meeting
4.3.2. Distributing information based on the Communications Management Plan
4.3.3. Performing Quality Assurance (QA) activities as defined in the Quality Management Plan
4.3.4. Coordinating project, work people and resources, and resolving conflicts and issues
4.3.5. Producing the project deliverables in accordance with the project plans
4.3.6. Handing over the deliverables as described in the Deliverables Acceptance Plan
4.4. Closing
4.4.1. Finalising all activities in order to formally close the project.
4.4.2. Discussing the overall project experience and Lessons Learned with the project team.
4.4.3. Documenting Lessons Learned and best practices for future projects.
4.4.4. Closing the project administratively and archiving all project documents.
4.5. Monitoring & Control
4.5.1. Monitor performance
4.5.2. Control Schedule
4.5.3. Manage risks
4.5.4. Manage Stakeholders
4.5.5. Manage Issues and Decidions
4.5.6. Manage Transition
4.5.7. Control Cost
4.5.8. Manage Quality
4.5.9. Manage Outsorucing
4.5.10. Manage Project Change
4.5.11. Diliverables Acceptance
5. PM Tools and Techniques
5.1. PESTEL Analsys
5.2. Make or Buy Analysis
5.3. Stakeholders Interest/influence Matrix (SIIM)
5.4. Risk Likehood/Impact Matrix
5.5. Work Breakdown Structure
5.6. Deliverebles Breakdown Structure (WBS)
5.7. Efforts and Cost Estimates
5.8. Three-Point Estimates
5.9. Decidion Trees
5.10. Project Scheduling
5.11. Resource Levelling
5.12. Gannt Charts
5.13. Crtitical Path Medhod (CPM)
5.14. Critical Chain Method (CCM)
5.15. Earned Value Method
5.16. Pareto Analysis
5.17. Lessons Learned
6. Project Manager Expectations and Competences
6.1. effective Project Manager (PM)
6.1.1. Understand how projects are handled within the organisation (ask colleagues).
6.1.2. Review any project methodologies, standards and frameworks that exist in your organisation.
6.1.3. Follow a Project Management course (e.g. a course from the PM² Training Programme).
6.1.4. Practise Project Management and examine how you manage your project today, what you are doing well, and where you can improve.
6.1.5. Become an active member of the PM² Community, actively participate in the forum discussions, and learn from questions asked by other Project Managers (PMs).
6.1.6. Talk to other more experienced Project Managers (PMs) about how they run their projects
6.2. Competences
6.2.1. should understand
6.2.1.1. the Project Management Methodology used in their organisation (e.g. PM²).
6.2.1.2. how to effectively manage the initiation, planning, execution, control and closing of a project.
6.2.1.3. how to communicate, lead, motivate, negotiate, solve problems and deal with issues, conduct meetings and workshops, report project status, etc..
6.2.1.4. the business context of the project and the general project environment (i.e. sociocultural, political, physical, etc.).
6.2.1.5. subject-specific knowledge (e.g. IT, policy, etc.).
6.2.1.6. organisational policies and standards (e.g. security, organisational architecture, audits, etc.).
6.2.1.7. how the end-product or service will be maintained after it is delivered.
6.2.2. main competences
6.2.2.1. People Competences
6.2.2.1.1. Self-reflection and self-management
6.2.2.1.2. Personal integrity and reliability
6.2.2.1.3. Personal communication
6.2.2.1.4. Relationships and engagement
6.2.2.1.5. Leadership
6.2.2.1.6. Teamwork
6.2.2.1.7. Conflict and crisis
6.2.2.1.8. Resourcefulness
6.2.2.1.9. Negotiation
6.2.2.1.10. Results Orientation
6.2.2.2. Perspective Competences
6.2.2.2.1. Strategy
6.2.2.2.2. Governance, structures and processes
6.2.2.2.3. Compliance, standards and regulation
6.2.2.2.4. Power and interest
6.2.2.2.5. Change and transformation
6.2.2.2.6. Culture and values
6.2.3. Personal and Professional Virtues
6.2.3.1. Prudence (practical wisdom)
6.2.3.2. Judgment
6.2.3.3. Insightfulness
6.2.3.4. courage
6.2.3.5. honour
6.2.3.6. Honesty
6.2.3.7. fairness
6.2.3.8. generosity
6.2.3.9. friendliness
6.2.3.10. humour
6.2.3.11. calmness
6.2.3.12. temperance
6.2.3.13. magnificence
6.2.3.14. magnanimity
6.2.4. relation of the aforementioned virtues to the various behavioural competencies