AZIPOD PROBLEM LIST
by
onza Huang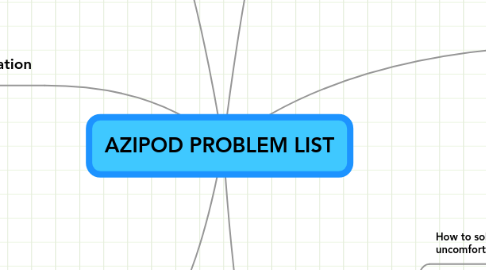 0.0
stars -
0
reviews range from
0
to
5
AZIPOD PROBLEM LIST
Lifting
How to lift or lowering equipments and tools
How to lift up patient ormoving victims inside the Azipod
How to prevent from Falling or how to reduce the damage of falling (falling Protection)
Communication
How to deal with the noise?
How to prevent misunderstanding
About the comminicator
How is the reliability of verbal communication?
How to deal with the delay(lag) of message communicating?
Working Suit
How to solve the uncomfortableness?
The conflict between having a pocket or not
The problem about materials
How to put it on in a simple way?
How to use the padding?
Protection
How to make worker use them?
Head protection
Where should be the place that need to be protected? (Can't protect whole body)
How to avoid increase whole suit's volume?
Lighting
What is the size & weight of the light?
How & where to attach the light?
How to deal with the heat come from the light?
What is the property of the light
How to supply the power for the light?
Tool Carrying
How to prevent dropping the tools
How to prevent forgetting the tools inside azipod
How to take tools from tool bag more easily
How to make it easier to lift the tools